By Oliver Van Aken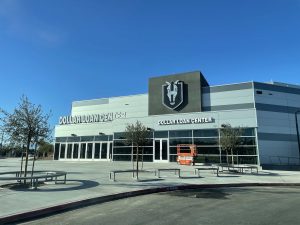 Back when the only sports team Vegas could have bragging rights over was UNLV Basketball (circa. 1990), few Las Vegans ever thought the city would be big enough, or respected enough for that matter, to host professional sports teams. However, when the NHL allowed room for an expansion team for the league back in 2016, it was to everyone's surprise that the Golden Knights would be coming to Las Vegas.
"I remember I was in middle school when the Knights first dropped the puck at T-Mobile," junior Aryn Koch said. "I was fortunate enough to go to a game and I thought it was really cool that Vegas had their own team."
After the Golden Knight's Inaugural Season in 2017, Vegas would be the home of two major-league sports teams, including the Women's National Basketball Association Vegas Aces who came to the valley back in 1996. Everyone could tell Vegas was ready to enter the major leagues just by looking at how quickly we adapted to hockey, a sport foreign to our desert climate. Nowadays, adults across Las Vegas and Henderson frequently sport VGK gear, while their children play the sport recreationally within the Jr. Vegas Golden Knights Hockey League. Las Vegans gained another athletic accomplishment, as that same year (2017), the NFL allowed the Oakland Raiders to move to Las Vegas.
"I remember exactly where I was when my dad came in and said the Raider's were coming to Las Vegas," sophomore Evan Stark said. "My family has been life-long Raiders fans. It was a great moment for us."
Housed within one of the newest stadiums in the country, Allegiant Stadium, the Las Vegas Raiders performed their inaugural season under the harsh pandemic requirements back in 2020. Yet, they still managed to rank second place in the AFC West division, and almost made it to the playoffs during the 2021 season but were unfortunately beaten by the Cincinnati Bengals. Although there was more of a natural sense of pride for the always-local Golden Knights, Las Vegans still loved and supported the now-local Raiders. Now that the Las Vegas Valley is proudly represented by two out of the four professional sports leagues, one question remains. Will Vegas receive an MLB or NBA team?
"I really hope we can see an NBA team come to Vegas," senior Kris Bell said. "Seeing all the players from across the league come to Vegas would be insane."
As for a Major League Baseball team, the Oakland A's were actually in talks with the City of Oakland for a new stadium. If the A's don't receive a new stadium, which is unlikely to happen, they are presenting a bid to the league in order for them to relocate to Las Vegas. Multiple location sights such as the Rio or Tropicana have been planned to potentially be taken down in order to build a new baseball stadium. As of December 2021, talks are currently in place over how the relocation would or even will go down.
A true full circle for Las Vegas in terms of athletics would be the addition of an NBA team. As previously mentioned, back in the 90s UNLV Men's Basketball team was nationally recognized, even winning the NCAA Division One Championship (1990). An NBA expansion team would be less likely to appear in Vegas anytime soon compared to an MLB team; however, in 2020 NBA commissioner Adam Silver did project a possible plan for an expansion team to recover financial losses from the pandemic. The National Basketball Association also has ties to MGM Resorts and Casinos as the NBA Summer League is hosted at the property. 
Overall, the amount of athletic progression Las Vegas has seen within not even the past decade is incredible. Not only has the city been given the opportunity to host two new major-league teams, but we've also shown as a community our excitement and bonding over some of America's favorite past times coming to America's Playground.