By Brianna Gracia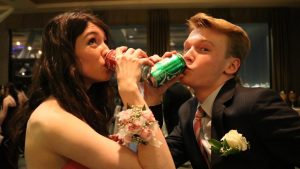 Prom was hosted at Dragon Ridge Country Club on Sat., March 19. Student Council worked together to make it a memorable event for all who attended. This was the first prom Coronado has hosted since the pandemic began. The theme was Met Gala. The venue was decorated with flowing streamers and dainty tablecloths. 
"I thought the theme was really fun!" said senior Kennedy Payeur. "Stuco did such a great job setting it up! The venue was really nice, too." 
During prom, guests danced the night away to a variety of songs – some slow dancing with their significant others, others breaking it down to 'Time of our Lives' by Pitbull. Students could also take pictures at the photo booth to capture the moment. For one night, both junior and senior classes were joined in one event to celebrate how far they'd come in their high school careers. 
Finally came the crowning of the Prom King, Stone Mactegone, and Prom Queen, Kennedy Payeur. Their names were announced over the microphone to all of the attendees, and the two were not only granted the honor, but the memories of the moment. 
"It really felt unreal," said senior Stone Mactegone. "I really didn't expect it. It was like I was in a movie."  
Unexpectedly, prom tickets sold out the week before the event. However, seniors that wanted to attend were able to. Since this was Coronado's first prom since before quarantine, it was evidently popular. Prom usually includes both juniors and seniors, and this one was no different. 
"Prom was so surreal," said senior Kennedy Payeur, "I'm just happy I'll have these memories, and I can tell my kids about it."