by Abbey Huffer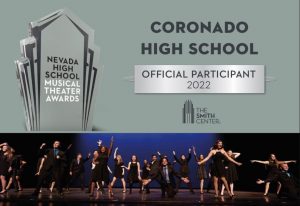 Musical Theater Awards// The Coronado High School theatre is invited to the Musical Theater Awards, and four outstanding students were nominated to receive the "Outstanding leader actor", "Outstanding lead actress", and two "Outstanding supporting performer" awards. (Photo courtesy of Coronado Theater)
Coronado Theater has the talent and privilege to perform at the Nevada High School Musical Theater Awards after their performance of Hairspray in February. Support your friends and family who were nominated for an award on Sun., May 8 at 2 p.m. at the Reynolds Hall. Tickets are selling for $10 if you buy early and $15 at the door. 
Senior Liam Deems, who played Corny Collins in Hairspray was nominated for "Outstanding lead actor."
Deems has been in theater since his sophomore year but still performed in Coronado's production of Legally Blonde his freshman year. This is his last year of doing theater, as he is graduating soon and will not be continuing after graduation, but he is leaving knowing he's left his mark.
"It's really awesome," Deems said. "I love theater so much, and I'm really excited and honored to have been nominated for best actor. The community of our theater program is really close and we're all friends. Mr. Torres makes sure that we all get along and have the best time and opportunities."
Senior Riley Crum was nominated for "Outstanding lead actress" after their role as Velma Von Tussle. They've been doing theater for about five years but became really involved their freshman year. Although they are a graduating senior, they will continue to study theater in college.
"I'm so honored to be nominated," Crum said. "Although the process was overall a great experience, there were definitely times that the rehearsals became quite tiring because of the huge commitment everyone was making time and energy-wise. This show was such a rewarding process, and it's amazing that I get to commemorate the experience with competing at the Nevada High School Musical Theater Awards. I'm so excited for the ceremony."
Another honorable mention is sophomore Jaelyn Murray, who was nominated for "Outstanding supporting performer" for her role as Seaweed's little sister, Little Inez. This was Murray's first big production, but she has previously been in small plays such as the Urban Legend Anthology earlier this school year. 
"It was a surprise," Murray said. "I wasn't expecting to be nominated out of all the people that should've. There were moments where there were good runs and other moments where the actors weren't focused or getting frustrated, but overall the rehearsals were fun and beneficial."
The cast of Hairspray is practicing on Fri., May 6 for the performance at the theater awards. They will be performing "You Can't Stop the Beat" because they are also nominated for "Outstanding ensemble." Remember not to miss out on this exciting opportunity to support your peers on Sun., May 8 at 2 p.m. at the Reynolds Hall. 
"I say it every year to my students – with theatrical productions, the rewards are not instantly gratified," Torres said. "As humans, we tend to seek instant gratification with anything we do, but we don't get that with theatre. We work hard for months- beginning in October. There are days that leave us exhausted. There are days when we feel pushed to the limits. There are days we are challenged like we've never been before. These nominations are testament that hard work does, in fact, pay off. I am extremely flattered by our nominations and I couldn't be prouder of our nearly 150 students involved in Hairspray. Hairspray will always be special to me. On top of its powerful message, we never expected the success of selling out weeks in advance and adding a second weekend of shows. I am so glad the hard work of every cast, crew, and orchestra member can be recognized at the state level. No matter what happens at the Awards, I am beyond proud of our theatre community in the Cougar Nation!"