By Lilia Combs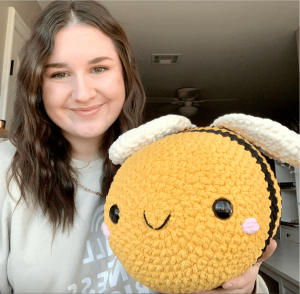 Stitching together her life, Mia Morgan adopted a hobby over quarantine that no one could've guessed would change her life. Mia, an accomplished woman who is very ahead of her time, has already established her own small business using her talent in crocheting. With graduation on the horizon, Mia has always been driven to success. Mia is not only a business-woman but an outstanding academic achiever as well.
Mia holds a wide range of talents up her sleeve. She has been a french horn player for Coronado wind symphony all four years of high school, a participant in district honor band, an all-state band member of the Coronado marching band, a member of the band leadership team, and president of Cougars 4 Change club. She is an AP Academy graduate, a piano player for 12 years, and an active member of a youth group planning committee. 
Almost a year and a half ago, Mia found herself bored during the lockdown period and thought to give her hand at crocheting. Soon that passion grew and had Mia hooked–literally. She began creating all kinds of different animals and accessories with her skill. A good source of income came from this as well, aiding her through the long months, and growing into a small business. Popular demands for her products gave her the drive to create, despite the challenges and stresses it may bring.
"It has become successful enough to be my part-time job. I originally got into it because I was very bored during quarantine sitting at home all the time, and I wanted to find a way to fill my time and make a little extra money," Morgan said. "There is a lot of work that goes into a business. I have to market and set up social media ads, manage my shop and all the listings, create new products, fulfill and ship orders, manage money, and make sure I always have enough supplies."
Traction began to build when Mia was recognized on Etsy for her intricate creations. Products range from frogs, bees, axolotls, and octopi to scrunchies, keychains, pillows, and even pride and holiday-themed products. Dedicating her time to growing this inspiration, Mia handles a great deal of stress that comes with running a business with such high demands. Going through stages of disinterest and a lack of motivation, Mia kept pushing.
"It can get crazy busy, but I love it so much and have learned so much about the world of business through being an Etsy shop owner," Morgan said "It is so fun to be creative and to have that outlet. I love the fact that I am my own boss and am in charge of my hours and deciding what to sell."
The business name is made by mimi! @madebymimi_co on Instagram, and mmadebymimi on Etsy. Not only does Mia put her heart into everything she makes, she is also sure to leave a clean trail behind her for the planet. All of her products are as eco-friendly as possible. She uses plastic-free, recycled, and recyclable packaging, and the material she uses to fill her plushies is made out of 100% recycled water bottles. 
Etsy business aside, she can get overwhelmed with how much time shet putsinto so many different things, from her academics, home, and personal life as well. Mia continues on despite the stresses and plans to major in business management in the fall at University of Utah. With high hopes for her future, Mia Morgan's life is clearly destined for a road of high successes and fulfillment with whatever she chooses to create. 
"It makes me so happy to build relationships with all of my customers, and seeing positive reviews pop up on my dashboard absolutely makes my day,"  Morgan said. "That is definitely my favorite part of running a business – the kind people who support me. I hope I can continue doing this in the future."