By Maya Fankulewski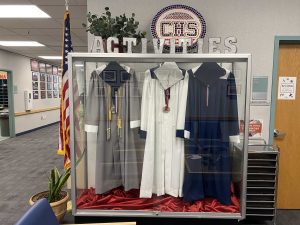 With less than two weeks of school, Coronado's class of 2022 is getting ready for their high school graduation. The Coronado Senior Newsletter consists of all the important dates and information seniors should know about before attending the graduation ceremony. June 1 is the official date of graduation. The class of 2022 will move on to the next chapter of their lives.
Coronado High School seniors are expected to attend the MGM Grand Garden Arena at 6:00 PM on June 1st for graduation. There are a total of 752 seniors, 1 valedictorian, 1 salutatorian, and 6 national merit scholar finalists. The graduation assembly occured on May 12 during the second period, and the Senior check-out cards are due May 16. On May 20 at 8:00 am, graduation rehearsal will take place in the main gym. This is a required rehearsal for seniors who are planning to attend graduation. On the same day, grad walk will start around 9:00 am, which is when seniors parade around the school in caps and gowns. This is to give seniors the opportunity to look back at all the memories and accomplishments they have made as they walk through the hallways and quad. Family members are welcome to participate by taking photos and observing the walk. 
"I am looking forward to the grad walk," senior Dhanvi Yuvaraj said. "I have watched my older friends do the graduation walk, so it's crazy to think about how I'm next. I can't believe I went from freshman orientation to getting ready to graduate." 
Graduating students will be allowed to bring up to 6 guests. If students would like to bring more guests, they can request more guest tickets on the Additional Graduation Ticket(s) Request google form. If they are approved for extra tickets, they'll receive those along with their allotted 6 tickets. Caps and gowns must be worn at rehearsal. The commencement ceremony will last around 90 minutes, and family members are not allowed to bring balloons, signs, or noisemakers into the MGM Grand Garden Arena. Saving seats is also prohibited, and there is a clear bag policy. 
"I can't wait for my parents to watch me graduate," senior Emily Fankulewski said. "I know that they will be proud and excited for me to move on to the next stage of life."
There are certain dress code policies that those attending graduation should abide by. There should be no shorts, flip-flops, sandals, tennis shoes, or handbags. Students can not decorate their caps, and only CCSD medals, cords, pins, and hoods are allowed. In order to avoid injury, caps cannot be thrown during or after the ceremony. Graduating students will go through security before receiving their lineup cards. Guests will need to bring their tickets to enter, and the doors for families and guests will open at 5:15 pm.