By Oliver Van Aken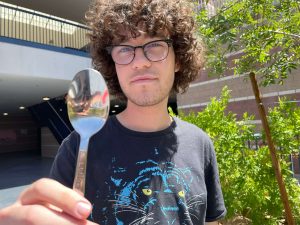 While most students are satisfied with going through the motions, senior Lev Sterling is truly an individual who walks to the beat of his own drum. Originally learning how to play the drum set in elementary school, Lev has grown into his own musical abilities through his percussion performances in groups such as the Coronado Wind Symphony as well as the Las Vegas Young Artists Orchestra. Lev has also expanded into the production of his own music under the stage name, "Stev Lerling", resulting in his portfolio of two singles, and a single EP.
"Listening to music with my dad as a kid exposed me to a lot of new types of music like Johnny Cash and Rage Against the Machine," senior Lev Sterling said. "I wanted to be like the people I heard in the songs, that's what drove me."
In addition to Lev's musically talented hands and his driven heart, he also sports an extremely intelligent mind. Throughout his high school career, Lev has earned a 3.8 unweighted GPA, and a 4.7 weighted GPA due to his participation in nine various AP classes. Lev also participated in Varsity Quiz, which he was recently televised on PBS Las Vegas for their championship tournament. Unfortunately, this year Coronado Varsity Quiz lost to Clark High School; however, that doesn't take away the hard work and skill Lev acquired in order to be a huge asset to the team.
"The AP courseload I gave myself was pretty challenging. Taking more than one AP class junior year became very hard managing time. I combatted this by trying to maintain a schedule and planner," Sterling said.
Although Lev appreciates his time at Coronado, he admits his most exciting years are ahead of him, especially when he is to attend Drexel University this fall. Located in Philadelphia, PA, Drexel is where Lev intends to pursue a major in Music Industry and a minor in Business. While going through the college application process, Lev always knew he wanted to study music at a higher level, and when he received a $35,000 merit scholarship, acceptance into the Pennoni Honors College -and admittance to their concert band- Lev knew his hard work had paid off and Drexel had recognized that.
"I'm excited to meet a whole different group of people that I've never met before, and exploring that side of the country will be fun," Sterling said. "Also learning about music and how I can turn it into a professional career will be exciting."
While Lev waits for the next ensemble in his life, he has developed a small side hustle of producing other local artists' music. Often using production software such as "Logic Pro", Lev has made a name for himself within the Henderson music scene. Lev even features at local concerts with his colleagues and friends.
"Playing live has been a learning curve," Sterling said. "Just understanding how to get the most engagement from your audience is something I really have come to appreciate."
As Lev ends his symphony at Coronado and begins his new chapter across the country he holds nothing but excitement for his future. While some may make the obligatory, "what can you do with a music degree?", Lev is confident in his passion and dedicated to studying music at a higher level. Lev Sterling is many things, a musician, a producer, a friend, and a son, but first and foremost he is a young man who knows his own path.