by Aubree Gearhart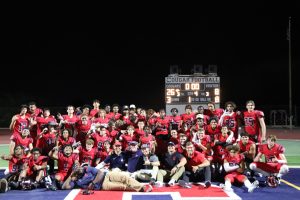 For the first game of the 2022-2023 season, the Coronado Cougars took on the Cimarron Knights. With both teams prepared to play the game to their fullest potential, the Cougars were highly anticipated to win the season's first game. 
"The game was great, we started off pretty strong on offense," said Senior Davion Martinez (#99). "I feel like the defense and the offense were bouncing off each other's energy pretty well. We had a very good lead to the start and the finish." 
With the entire student section dressed in all red and stoked to watch the Cougars demolish the Knights during the first game of the season. The student section indeed went all out for this game and screamed their hearts out to cheer on the Cougars. 
"The defensive line did very well- we had more than 5 sacks combined for the defense. I had two of said sacks," said Martinez "We had an amazing team victory, and I also received player of the week for my outstanding performance. We proved to everyone how great of a team we are and what we can do." 
This game was an exhilarating night for the Cougars taking the win in their first game of the season with the final score being 26-8. Catch your Cougars at their next home game on August 26 against the Clark Chargers at Coronado Field at 6 p.m.