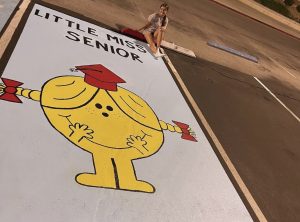 by: Tainá Queiroz Fonseca 
On Friday, August 19th, a select group of seniors won parking spots in a raffle. The lucky winners and their creative skills will be tested as their spots will be visible to all who visit Coronado. Will the class of 2023 outdo the class of 2022? 
Students chose diverse designs, from tik tok trends to music albums. A few spots piqued interests while walking through the parking lot. The first spot belonged to senior Milly Colbert, whose design sprung from the "Little Miss" tik tok trend. 
The trend originated from the children's "Little Miss and Mr. Men" series in the late 20th century. Users utilize these characters to describe their distinct personality traits. The trend has grown, and companies such as Chipotle and Duolingo have posted their takes on the trend. 
"Growing up, we had just about every Little Miss and Mr.Men book," senior Milly Colbert said. "They were always my favorites. When I saw that they were trending on Instagram, I knew I just had to use one for my spot,"
The "Little Miss" books meant a lot more to Colbert than a trend, and it's bittersweet to represent a part of her childhood in her last year of high school. In less than a year, Colbert will become "Little Miss Graduated," along with the rest of the class of 2023.
Another eye-catching design belongs to Lex Duncombe, and her love for animals growing up inspired her design.
 "I've always loved animals, and I'm planning on studying animal science in college," senior Alexis Duncombe said. "I wanted my parking spot to be themed around something I'm passionate about, so I made my parking spot giraffe print." 
Other notable mentions included a stunning painting of a floating astronaut and a stylish Tiffany necklace. 
All great designs have meaning and connect to their senior's passions or interests. The class of 2023 has outdone themselves and flooded their personalities into the dark pavement to create beautiful art.