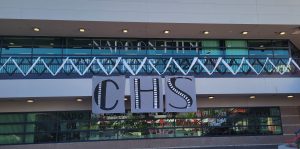 by: Aubree Gearhart 
Something that I've heard quite frequently every year around the time of homecoming at Coronado is; "Homecoming would be so much better if it were formal." Many schools around the country, and even other schools in the valley have a formal homecoming. Coronado is definitely  an exception. 
"I think that it should be treated more formally because it's a very special event in anyone's high school career,"  senior Kyle Trinh said. "Everyone should be encouraged to look their best at a dance rather than in their normal everyday attire."
Just as Trinh said, homecoming is a special event that high school students only get to experience four times. Dressing up for homecoming would create a much more memorable and in some ways fun event. For most students, getting ready and looking their best for an event is exciting and gives people something to look forward to. 
"Homecoming should be formal, mainly because everywhere else it is formal,"  senior Rylan Aspeland said. "Every year when homecoming comes around, nobody dresses up, and it's just disappointing. I wish we could get as dressed up as we do for prom. It's one of the few times during the year that we get to wear a nice dress, but instead, we just end up wearing jeans and a T-Shirt to the bash." 
Many students are excited about getting dressed up for a day and would enjoy it if homecoming was as much of a big deal as prom is. Freshmen and Sophomores should be able to have a dance where they can get dressed up and not have to wait until Junior and Senior year to go to prom and get dressed up. Wearing something plain-jane such as a T-Shirt and jeans tends to make the bash underwhelming and makes fewer people want to attend the bash. 
"We have just had a tradition at Coronado to have a casual homecoming versus a fully formal one," senior student council vice president Sloane Vuckovic said. "Students are still more than welcome to dress up at the bash if they would like."
Although it is typically tradition for homecoming to be a casual event students are welcome to dress up at the event if they would prefer. Some students do dress up at the bash, but the majority dress casual.  
The homecoming football game is on August 23 kickoff will be at 6:00, followed by the homecoming bash that will begin after the game ends. The homecoming football game will have many festivities held during halftime such as the announcement of homecoming king and queen.