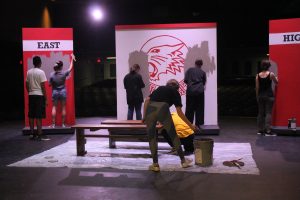 by Talia Medina 
Coronado theater's tech department had their first tech day on September 17th to start building the set for the upcoming fall play, Hamlette. They have been creating a two-story set for the play and are planning many exciting things for it. 
"Hamlet is a play by William Shakespeare; however, we're actually performing Hamlette which I would describe as a more feminist version and a parody of the original." senior Sammie Lobosco said. "It's making it easier for people to understand what it's about,"  "We're planning to build a two-story set. We haven't really had a complete two-story set in a few years, and it's going to be tough because we only have three days planned to build the entire set, but I think we can do it." 
Coronado's theater department is incredibly well recognized throughout CCSD for their last spring musical, Hairspray, which was best known for its incredible set design and more. This year, they've decided to go all out for their upcoming plays and this year's spring musical, Mamma Mia, meaning that there's a lot to expect for Hamlette. 
"From what I know of what's going to happen during the actual shows is that we're having a renaissance-like event going on beforehand, and I believe that we'll be dressed up as well," sophomore Dorian Mele said. "The event before the show will also include some of the actors walking around and interacting with guests, and there's even going to be some little areas to buy food." 
Coronado theater techs are thrilled for Hamlette and will be working these upcoming weeks, continuing to build their set and prepare for the play's debut. Come support the theatre and tech department on their opening night Thursday, October 13th. The play will run until Saturday, October 15th, with all all shows starting at 6:00 p.m.