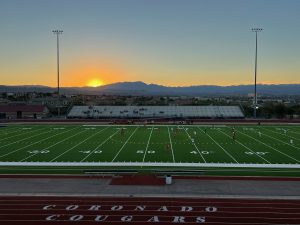 by Addison Stanton
On Thursday, October 20, the Women's Varsity Soccer team kicked off against Las Vegas High School. Before the game, senior Misha Yap was commemorated for her hard work and dedication to the program during an early Senior Night. She played the bulk of the game and contributed towards the 6-1 win.
"We had control of the game," freshman Ryan Neel said. "We had lots of chances too, but we just didn't finish them until the second half."
During the first half, things started off a bit slow. The Cougars ended up obtaining an early goal from a counterattack that was started by sophomore Asia Moses and eventually passed up, splitting two defenders, to senior Milan Cordone. However, a foul kick was shot by Las Vegas High School and scored putting the game at 1-1. Despite multiple efforts to change that score before half, it didn't come. 
Second half commenced and so did goals. Two blatant fouls lead to two PKs, one shot and scored by senior Xayla Black and the other shot and scored by Cordone. Deciding to join in on the action, junior Lillie Schuth had a 30-yard dash to the goal and scored making the game 4-1. Junior Sierah MacCallum also split two defenders and made it to a 1v1 against the goalie. With senior Regan Diguilio by her side, she shot at the goal, hit the crossbar and Diguilio heads the rebound into the goal. To end the scoring frenzy, senior Trinity Buchannan tapped the ball into the net making the final score 6-1.
"The whole team had a great vibe and high energy the entire time," Neel said.
You can find the Cougars competing against Liberty High School on October 24th, at 4:30 at Coronado. The next game is also their senior night, don't miss it!