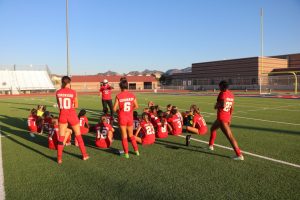 by Addison Stanton
On Monday, October 24th, the Cougars fought on against the Liberty Patriots. While they battle, they honored six seniors from the class of 2023: Xayla Black, Milan Cordon, Trinity Buchanan, Regan Diguilo, Misha Yap, and Daphne Egelhoff. In honor of the seniors, the Cougars took defeated the Patriots 5-0.
"Senior night went great," senior Daphne Egelhoff said. "It was honestly sad, but it was filled with some sort of excitement."
With the Cougars kicking off first, the Patriots did not rest. With it being a very chippy and physical game, lots of free kicks were produced for the Cougars. This lead to an early 1-0 lead. Closer to the end of the half, sophomore Asia Moises finished bottom right corner after she broke through the defense. Another goal was finished in just ended two minutes before halftime.
The Cougars held a strong 3-0 lead, but that wasn't enough for them. Junior Camryn Piccininni makes a run from the left side and lightly taps the ball in behind the goalie. However, Liberty had a few good attempts, from corners and the occasional free kick. Nonetheless, Coronado's back line held them off. Unfortunately, senior Regan Diguilio was called offsides after scoring a beautiful cross. All of this lead to an eventual 5-0 for the Cougars.
You can find the Cougars playing against the SECTA Roadrunners on Wednesday, October 26th at 3:30 pm at SECTA.