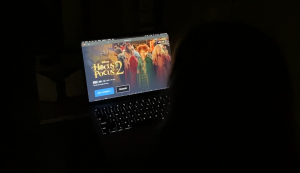 by Jordyn Tribus 
* Spoiler alert *
The original Hocus Pocus, released in 1993, captured the essence of Halloween itself. It was spooky and witty, while being serene and sophisticated throughout the movie. It wasn't until 29 years later that the production of a sequel was organized. On September 30, 2022, the wicked Sanderson Sisters made their return to the big screen. 
Hocus Pocus 2 surrounds the original three sisters: Winifred Sanderson (Bette Midler), Sarah Sanderson (Sarah Jessica Parker), and Mary Sanderson (Kathy Najimy) and it is safe to say that the chemistry between the three remains powerful. Naturally, this sets the scene for the whole production. From the beginning credits to the end, one could say that this movie was creative. The traditional opening scenes of all Disney movies, the classic Disney castle, was formed into a haunted castle which added a level of flair that was not seen in the original movie. The movie describes the witches' origin story, and who doesn't love a good villain origin story? Understanding where the sisters came from helps to solidify questions or misinterpretations of their past. 
The incorporation of little details, like the Madonna costume and the little girl Emily (Amanda Shepherd), from the first movie develops a connection from the classic movie to the modern one. Although the sisters' actresses remained the same, disappointment came when the film barely mentioned other important characters such as Dani and Max. They seemed irrelevant in this new movie when they significantly contributed to bringing back the sisters in the original film.
Unfortunately, this movie takes the cake for the least capturing Halloween sequel. The whole concept of the resurrection and the plot was very predictable. The witches would be ignorantly let out by a teenager, and there would be sporadic songs sung in the mix of the action of running and screaming in terror. Then, in the end, they would end up disappearing again. The end credit was also very misleading. It showed a box with a second black flame candle hinting to the audience that another Sanderson sister's appearance could be imminent. Let's be honest; if they decide to create another film, it will take another 30 years, be just as corny, and not live up to the classic Hocus Pocus. 
This modern Halloween movie may be a good filler movie to play in the background while doing your homework, but as for a repeated classic, this movie is definitely not the one to play every Halloween. Just stick to the classics, and you won't be disappointed. "Sisters" out.