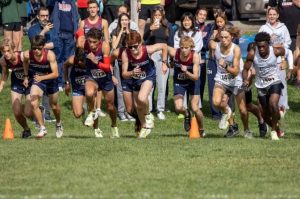 Varsity Cross Country State Championship
by Madeline Vernaci
On Saturday, November 5, the Coronado Varsity Cross Country team competed in the NIAA State Cross Country Championship at Veterans Memorial Park, Boulder City. The girls finished fourth with 128 points and the boys finished ninth with 158 points, finishing off their season strong.
"It was a great experience and I'm so happy I could be in it," senior Alana Sangprasit said. "I was so excited to race because it was my last race of the season. It was definitely a hard course but I was pleased with how I ended and how the team finished."
In order to score high and do their best, Coronado runners had to pace themselves well. Some top scorers for the girls team were Vera Lee with a time of 20:34, closely followed by Athena McKinney with 20:35, and Brooke-Lynn Miller with 20:38. For the boys, the quickest race went to Jackson Graham with a time of 16:49 followed by William Higgins with 17:06 and Kaden Vermillion with 17:12.
"I feel really great with this season because I was able to reach my goal of being the fastest for Coronado and on top of that I made top 10 at state earning all-state second team," senior Jackson Graham said. "I'm honestly really sad it's all coming to the end. Some of the best times in my life are because of this sport and it's hard to say bye to it at the high school level. I'm extremely happy I could end the season on a great note though."
After a year full of wins and personal records, Coronado's Cross Country season has, at last, come to a close. The Cross Country team will return next year when the school year starts in August.
Women's Soccer
by Jordyn Tribus 
Practicing day after day for the last four months, the Coronado Cougars have waited their whole season for the 2022 NIAA 5A Nevada State playoffs. They are one step closer to the State championship finals. The Coronado Cougars faced the McQueen Lancers on November 11th at 10 am for their semifinal game. For the first time in four years, the state playoffs were held on the Cougars home turf. This plus their previous game against McQueen, in a preseason tournament, gave them the confidence to be victorious. 
"I was confident going into the game because we watched film the other day on McQueen showing us that they were sloppy and our team has also improved a lot since the Tahoe games," sophomore Asia Moises, #13, said. "I was also nervous because it was a big game and I always get nervous butterflies before games."
Nevertheless, Moises suppressed her nerves and managed to score within the first five minutes of the game. This goal gave Coronado the boost and momentum they needed to win the game. They had clean touches and crisp passes that were unmatched by the Lancers. Even though the cougars scored early on in the first half, they still had to battle it out to the end. By the end of the second half, it was 2-0 in favor of Coronado. 
"It felt good scoring the first goal," Moises said. "I was happy that I could put us in the lead and It kind of set the tone for the rest of the half."
The whistle blew for the second half and the Cougars were back at it again. In no time Coronado was able to put in a third goal produced by Tia Garr. Their possession remained high and their ambition to win even higher. A slight setback allowed McQueen to capitalize on a goal floating right above the keeper's hands. Yet this was not enough to overtake Coronado's immense lead. The Coronado Cougars eliminated their first-round competitors, McQueen, with a 3-1 win.
"We were able to connect and play hard until the end," junior Tia Garr, #12, said. "For the championship, I don't think there's necessarily anything we need to fix, we just need to come out with intensity and play our game."
The Coronado Cougars will be right back at it tomorrow, 11/ 12 @ 10 am, to once again face the Faith Lutheran Crusaders in their final battle of the 2022 season.