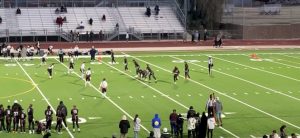 by Brianna Gracia
Coronado's Varsity Flag Football team took on Desert Oasis Thursday, December 1, at an away game. It was the first game of the pre-season. Tension filled the field as both teams came equipped with their A-Game. In the end, Desert Oasis took home the win with a score of 25-19.
The game started with a bang as Coronado quickly secured a lead of 12-6. But Desert Oasis' offense played aggressive and fought back, rapidly catching up. 
"It was a rough start," said Sarah Lopez, 10. "Both teams' defense was really strong, and it made it hard to move the ball. We got sort of complacent just trying to keep up." 
The game was sent in a whole new direction when Desert Oasis went for a one-pointer. During the play, Bella Lang caught the ball, securing the score at 19-19. It was then the team went into overtime. 
"The overtime was really tense," said Lopez. "There was a lot of pressure because whoever scored first would be the one to take it home." 
Coronado reached four downs without scoring. Desert Oasis also reached four downs, but on their fourth, scored, breaking the tie. 
"We were both equally equipped to play," said Bella Lang, 12. "But one team has to beat the other, and in this case, Coronado lost. But I think we'll still do well this year. We have a really strong defense and offense." 
Catch Varsity Flag Football in their next game against Palo Verde at an away game Monday, December 5, at 4:30.