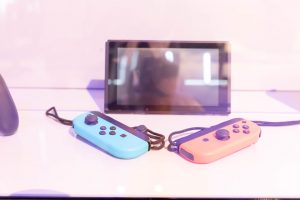 by Brianna Gracia
When the weather outside is frightful, but the fire is so delightful, manic extroverts like to take to the town, making snow angels and listening to carolers. For the secluded introvert, there's one golden way to spend the holidays. Cozying up by the fire, grabbing a cup of hot chocolate, and playing video games. Think not of third-person shooters and raging thirteen-year-olds. Instead, imagine wholesome games filled with beautiful art and immersive storylines. That's the kind of adventure gamers are going to indulge in this season – and with the plentiful supply of new releases, it's sure to check a lot of points on their Christmas list. 
Though snow is falling, some gamers are stuck in the witching season. For fans needing something a little spookier, Beacon Pines, by Fellow Traveler, has you covered. Play as a group of friends – each an adorable animal – who stumble upon a terrifying secret in their tiny hometown. 
What makes the game unique is the way the plotline unfolds like a storybook. Each scene is played out like a vignette in one larger picture, utilizing its unique and captivating art style. Gameplay consists of midnight missions, exploring strange potholes, and terrifying secrets. The story unravels in a way similar to Mad Libs; when making a decision, you may choose from a word bank that will determine what occurs next for your character. 
This game is an excellent choice for fans of Night in the Woods, Oxenfree, Typoman, and Twin Peaks. 
For gamers who don't like spooks and scares, there's the adorable Bear and Breakfast, made by Armor Games. Gamers play as a Bear, hence the name, as you tidy up your bed and breakfast shrouded in the forest. 
Those who like management games will find great joy in fixing up the old lodge deep within the woods. The art style is incredibly charming, animated like a cartoon. Players can decorate their establishments with a variety of decorations and furniture. The atmosphere of the game is almost akin to Gravity Falls in the way players can cozy up in their little shack or venture into the wide expanse of the forest outside. 
Those who enjoyed Stardew Valley and Animal Crossing will have a blast in Bear and Breakfast. 
SpiritfarerSome gamers prefer the high seas over crowded forests. Spiritfarer is sure to get their attention. Players take on the role of the Spiritfarer, a guardian meant to guide souls to the afterlife. Accompanied by a spirit-cat, one can befriend various ghosts – all of which take on adorable animal forms. 
When players aren't sailing, there are an endless number of things to do. One could fish with their magic fishing rod or cook a scrumptious meal for the ghosts aboard the boat. Explore gorgeous islands or fight against the darkness and collect glowing jellyfish. On top of that, there is a bountiful storyline that is sure to warm hearts. Players will truly learn what it means to love and let go. 
Anyone who enjoyed Stardew Valley, Cozy Grove, or Animal Crossing will find lots of joy in this small, charming game. 
Snow days and cold nights only make for the best stay-at-home gaming sessions. After meeting with family or sledding with friends, pick up one of these cozy titles, find a blanket, and grab a plate of chocolate chip cookies. There's no gift better than a little quiet time between a gamer and their console.