by Madeline Vernaci
A Christmas Story is the classic tale of childhood and a heartwarming family Christmas despite unexpected obstacles. Released in 1983 and based on Jean Shepherd's semi-autobiographical book, A Christmas Story has become a classic Christmas movie thanks to the chemistry of the actors and Jean Shepherd's humorous narration. On November 17, 2022, A Christmas Story Christmas was released, a sequel set 33 years after the events of the original.
In A Christmas Story Christmas, the grown-up Ralphie Parker, an aspiring writer with a wife and kids of his own, struggles with trying to get his novel published and the unexpected death of his father. The film follows Ralphie and his kids as he attempts to fill the shoes of his father, who had always worked endlessly to bring a perfect Christmas to the family.  
While it takes place 33 years after the original, there are countless parallels between A Christmas Story and A Christmas Story Christmas, its sequel. One of the most memorable parallels directly mirrors the intro to A Christmas Story when Ralphie's children, Mark and Julie, are seen peering enthusiastically into the Christmas display in the Higbee's window just as he once did with his friends. Additionally, soon after the movie starts, Ralphie gets lost in his imagination, living a daydream just like in A Christmas Story.
Despite being the third direct sequel to A Christmas Story, and released just under 40 years after the original, A Christmas Story Christmas has received more positive reviews than the others. My Summer Story was released in 1994 and despite Jean Shepherd's narration and involvement in the film, it didn't do as well as expected due to recasting brought on by production delays. In 2012, A Christmas Story 2 was released without the saving grace of Jean Shepherd's narration and without any basis in the events in his semi-autobiography, like the other two were. The film was released straight to DVD and overall received negative reviews.
The return of many original cast members set this movie apart from the other two sequels. Peter Billingsley returns for the lead role of Raphie Parker, as well as Ian Petrella as Ralphie's younger brother, Randy. Playing Ralphie's childhood friends, Scott Schwartz and R. D. Robb return as Flick and Schwartz, respectively. The last returning cast member is Zack Ward as the trio's neighborhood bully, Scut Farkus. The new movie's nostalgic feel can be accredited partly to their reunion.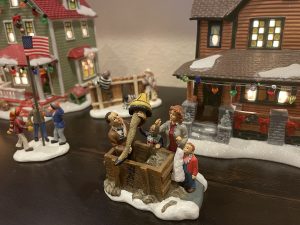 If you're someone who has seen and enjoyed A Christmas Story, this newest edition to the series is finally an enjoyable sequel to the classic Christmas movie. Even for those who might not have seen the original, the plot is easy enough to follow, and it shares a heartwarming message about families coming together regardless of the challenges they face.