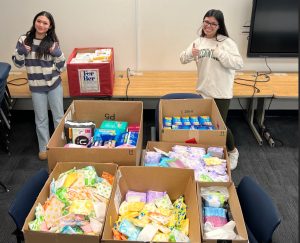 Collecting for all women//Seniors Charlize Cheatham (left) & Jocas Cunanan (right) smile at a successful turnout for their organization, For-Her. They were able to fill multiple boxes to donate to women in need of period products. (Photo courtesy of Charlize Cheatham)
Charlize Cheatham is already dominating the class of 2024
by: Hridi Bhakta
Senior year only comes around once, so you have to do it right. It's difficult to balance school, work, and your social life. If there's anyone who is ready for senior year, it's Charlize Cheatham.
"I already love senior year, it's been so much fun," Cheatham said. "I did not have the best freshman and sophomore years, and was honestly expecting my senior year to go downhill, but it's turned out to be amazing so far. I think senior year, you get a lot more freedom especially when you don't have many credits left. I was able to make my schedule geared towards my interests and passions. Also, just getting excited about college and going through the whole process is stressful, but doing it with people that motivate you helps." 
Charlize is heavily involved in extracurriculars. She's a proud member of NHS (National Honors Society), and FMP (Future Medical Professionals). She also occupies herself by tutoring, working at a restaurant, volunteering at a hospital, and running her non-profit organization called For-Her. 
"For-Her is also a non-profit that I started with a friend of mine, Jocas, in order to reduce period poverty in the Las Vegas Valley," Cheatham said. "Women without adequate access to period products suffer from disease at higher rates than those with access. It was infuriating to understand the lengths these women have to go through to get basic necessities, and I truly just want to help out as much as I can."
Both NHS and FMP are very prominent clubs at Coronado and require a lot of hard work and dedication, and so does running an entire non-profit organization. With intentions to join the track team this spring season as well, it's hard to manage a full schedule, not to mention Charlize is very academically involved at Coronado.
"The majority of my classes are AP classes, which all objectively range in difficulty," she said. "I think choosing AP classes that complement each other is important; it'll make understanding the material a lot easier. For instance, AP Statistics, AP Psychology, and AP Biology all share some of the same curriculum. Doing this cuts down my studying time immensely."
When Charlize isn't occupied with school or clubs, she is uploading and working on videos for her YouTube channel. 
"I am actually a huge graphic design person, and I run a YouTube channel with around 7,000 subscribers," she said. "It's definitely a super unique hobby, but I really enjoy it."
Despite being very interested in graphic design, Charlize hopes to go to college and study something in the medical field. 
"I plan to go pre-med so anything biology, chemistry, etc…," she said. "I've always been interested in the medical field and surgery ever since I can remember, and none of my family is in the medical field, so I feel like it would be a great opportunity to branch out."
In terms of her inspiration, Charlize credits most of her success to her dad and fellow Coronado teachers.
"[My dad] has always been there for me and has pushed me to go hard or go home," she said. "He doesn't let me give up and in the long run, I will be forever grateful for all his help. Adding on to that, the teachers I've encountered at Coronado play a huge role in my success and make me passionate about their subjects and motivated to challenge myself. I will never be able to thank them enough."
Charlize Cheatham is excited about what her senior year will bring and her fellow Cougars can't wait to see what she does.