By Sage Tippie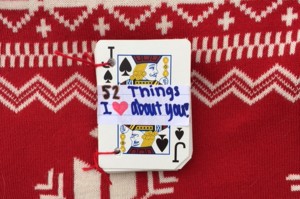 Think about someone you love: it could be a family member, a close friend, or significant other. The holiday season is the perfect time to spread love. Give a loved one a "52 things I love about you" booklet to remind them just how much he or she is appreciated each and every day.
You will need:
-52 playing cards
-a black sharpie
-a hole punch
-two pieces of ribbon/string
-glue stick
-plain paper
-scissors
Let's get started:
Step 1: Make a list of all the things you love about the receiver. Include a variety of compliments ranging from physical traits to personality traits to small quirks and anything in between
Step 2: Cut small pieces of paper to fit onto the middle of the cards. Glue the paper onto each of the 52 playing cards
Step 3: Write a reason from the list on each of the cards. Decorating the card with pictures to match the reason can add more of a personal touch
Step 4: Once all 52 cards are done, hole punch the top and bottom corners on the right side of the cards. Line up the first punched card with the rest of them so that the hole punches are evenly placed
Step 5: Tie all the cards together with a ribbon or string
Give the greatest gift of all this holiday season: love. There's no better time of year to show others how much they are appreciated.
Source: instructables.com