By Sage Tippie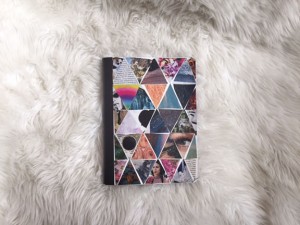 We all know someone that enjoys showing their creative side. A DIY decorated notebook is the perfect gift for any aspiring writer, journalist, or artist. Here is a creative way to customize a notebook to fit someone's unique style.
You will need:
-plain notebook
-images (from a magazine or printed out from online)
-liquid glue
-scissors
-triangle stencil
Let's get started:
Step 1: Collect your desired images. The images can be a variety of things that the receiver likes or things that remind you of them
Step 2: Trace over the images with the triangle stencil, then cut them out
Step 3: Glue the triangles down. Place them so that they all fit together well. (one right side up and one inverted)
Step 4: Cover the images in a thin, even layer of glue so that the images stay put and do not peel off
Give a gift that shows a creative side with a notebook that's personalized for anyone's individual style.