By Camille Sweeney-Carter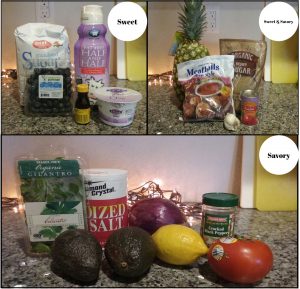 It's that time of year again: when the wardrobe goes from jackets and jeans to tank tops and flip-flops. Warmer months bring the need for air conditioning, pool parties, and basking in the sunlight. What else do they call for? Summer snacks, of course. Three easy recipes- one sweet, one savory, and one both-  are the perfect tasty treats to beat the heat.
BLUEBERRY GREEK YOGURT POPSICLES:
1 cup plain Greek yogurt
½ cup half-and-half
1 pint blueberries
3 tablespoons sugar
1 teaspoon vanilla extract
First, puree blueberries in a blender or food processor until they have a smooth consistency.
Strain the puree through a fine mesh sieve into a medium mixing bowl. Next, add the half-and-half, yogurt, vanilla extract, and sugar into the bowl; mix until combined. Then, pour the mixture into popsicle molds if you have them and insert popsicle sticks. If you don't have a mold, use any container such as paper or plastic cups. If you use cups or your mold does not have a lid, cover the tops with foil and make sure there are no gaps between the foil and the container. Cut slits to insert popsicle sticks. Freeze for about four hours overnight, or until frozen solid. When the freezing is complete, they are ready to serve. Dipping the molds in warm water may help the popsicles release from the molds.
GUACAMOLE DIP:
2 ripe avocados
½ teaspoon Kosher salt
1 tablespoon of fresh lime or lemon juice
2 tablespoons to ¼ cup of minced red onion or thinly sliced green onion
2 tablespoons cilantro
A dash of finely grated black pepper
½ ripe tomato, seeds and pulp removed, chopped
1-2 minced serrano chiles, seeds and stems removed (optional)
First, cut the avocados in half. Remove the pit, take a knife or a spoon, scrape along the inside edge of the skin and scoop the insides out. Place into a bowl and mash with a fork until left with a chunky texture. Add the salt, lemon or lime juice, onion, cilantro, pepper, and tomato. Mix together until the preferred consistency is reached. Remember, this recipe is just a base; it can be altered to fit any taste. This dip can be served with tortilla chips, and will be a nice, cold, savory treat to enjoy on a hot afternoon. To store, keep container covered by a lid or with plastic wrap and keep refrigerated. This tasty snack is best eaten within one to two days of refrigeration.
GRILLED PINEAPPLE MEATBALL SKEWERS:
1 pound of pre-cooked store-bought meatballs (any meat will work)
½ pound fresh pineapple, cut into sections
2 ounces of tomato paste
1 tablespoon minced garlic
2 tablespoons brown sugar
Prepare the meatballs according to the package's directions. The meatballs can be cooked or just thawed, but soft enough to properly insert a skewer. In a saucepan, combine the garlic, brown sugar, and tomato paste and put the pan over medium to high heat, making sure to stir frequently. Cook until the ingredients are fully combined, and the sauce is heated thoroughly. Turn the heat off. Next, add the meatballs and stir so that they are coated completely. Make sure the grill is ready by heating it to medium or high heat. Thread the meatballs and pineapple, alternating the two, onto metal or wooden skewers. Cook the skewers on the grill for about five minutes until there is a nice sear on the pineapple. Let them cool off, and they're ready to enjoy.