By Izzie Thornley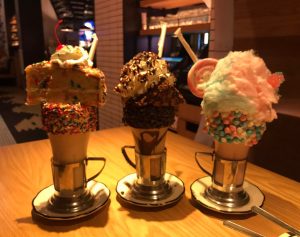 Throughout the years, unique food items have become a major part of our social media lives. Scrolling through Instagram, we are bound to a new form of ice cream every week. Videos of ice cream being rolled up covered our Explore pages. As frozen, trendy treats are reinvented, students go from place to place trying to find the best ice cream to star in their next Snapchat stories. The latest craze is Black Tap Craft, a burger and milkshake restaurant originally from New York that expanded to The Venetian on Dec. 30. Known for its massive milkshakes, social media is saturated with daily posts featuring this latest craze. I had to see for myself if these milkshakes are actually worth the hype.
Because no one likes to eat alone, I arrived at The Venetian with my foodie friend on Aug. 30 at 6:30 pm and headed straight toward Black Tap Craft. Usually, customers must wait at least 30 minutes in a crowded line winding through the casino just to get inside of the restaurant, but since there were several popular concerts that night, I got inside the restaurant immediately. Once I sat in the booth, I immediately realized something: everything was tiny. The napkins were the size of a small note card, the forks as small as one in a play kitchen set, and the plates barely big enough to hold a saltine cracker. The entire atmosphere reminded me of Wonderland, and I was Alice sitting at the Mad Hatter's table.
My waiter, Louis, handed us menus, and I fell back a little when I saw the price. The cost of one milkshake ranged from $15, all the way to $20. I ordered the Cake Shake ($17), the Brooklyn Blackout ($15), and the Cotton Candy shake ($17). As I waited for my order to arrive, I took another look around the restaurant. Bright neon signs and abstract paintings graced the walls while red and black checkerboard tile enhancing the floor. Classic rock music in the background gave the restaurant a great atmosphere for rocking out with friends. Then, after a long half-hour wait for only three items, the monstrous milkshakes finally arrived.
The bright pink and blue Cotton Candy shake, which was topped with rock candy and a lollipop, stood about 10 inches tall. The Cake Shake had an entire slice of cake on top. The Brooklyn Blackout looked like any other chocolate shake, except it was about 20 times the average size. For one minute, I admired their beauty, but then they immediately started melting. Trying to eat without spilling, I grabbed a handful of napkins, realizing they were still too tiny to combat the mess three, giant melting milkshakes could make. I had to use about 20 napkins per milkshake, mopping up spills, just so I could eat. It was exhausting.
As for the taste, the Cotton Candy shake was way too sweet. I ate less than half of one milkshake before I had a full on sugar crash in the middle of the restaurant. The Brooklyn Blackout was not too sweet, but it was just nothing more than an average-tasting, everyday chocolate milkshake; it was not sweet enough. If you take away the giant size of the shake, it would be nothing more than another typical, fast-food restaurant milkshake. The Cake Shake stole the show. This cake-batter flavored ice cream, unlike the other two shakes, had just the right amount of sweetness and is the perfect treat for your next birthday.
If you want to try this trend for yourself, get together a group of four people, go to The Venetian, buy one milkshake that exceeds the daily caloric needs of an average person and share it, Black Tap is a great environment to spend time with friends during the weekend. On the other hand, if you decide to go here only for the Instagram picture, it is not worth it. You can spend your $20 on 20 $1 shakes, put them in a big cup, and ultimately get the exact same flavor. Black Tap Shake has a great atmosphere to spend time with friends, but make sure to choose a designated driver who won't fall asleep from a sugar overdose on the way home.