By Kiley Brown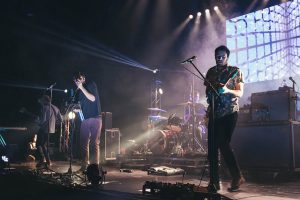 Indie isn't a single music genre, different categories branch off of it; there are at least 20 sub categories, including alternative, emo, lo-fi, and neo-psychedelia, but the most popular is indie rock. Indie rock was first developed in the United Kingdom in the 1970s. Bands broke out in the 1990s but truly began to shine in the 2000s. Advancements in the music industry and in music technology allowed a new wave of indie rock bands their time in the limelight. Bands that emerged because of the commercial breakthrough of the genre include The Strokes, The White Stripes, The Hives, and The Vines.
Built off of the popular punk rock and grunge scene, indie rock established itself with important messages. The majority of the bands spoke out against real issues such as race relations, government dictatorship, and social disorders.
"Indie rock" got its start after the grunge scene Nirvana created, and gradually more artists followed. The genre expands to audiences around the world, dominating the music charts. By 2005, the top 10 records of the year were all classified all came from the indie rock genre, showing the growth in its popularity.
Since then, indie rock hasn't slowed down. With chart-topping bands such as Arctic Monkeys, The Neighbourhood, and Young the Giant, indie rock is reaching an all-time high popularity. Music lovers might be familiar with their most popular songs: "Do I Wanna Know" by Arctic Monkeys, "Sweater Weather" by The Neighbourhood, and "Cough Syrup" by Young the Giant.
Young the Giant attended a meeting at Bovard Auditorium on March 27 to talk about their newest album as well as their opinions on current immigration issues. Sameer Gadhia, lead vocalist, said that the group noticed the "undercurrent" of anger and division throughout the nation, feelings that continued to grow following the 2016 presidential election. Gadhia said the group became more aware of these social issues and hoped to create music that touches on these topics. "Mirror Master" is their latest album and is set to be released on October 12.
Young the Giant isn't the only band to incorporate political or social messages in their music. "Panic Switch" by Silversun Pickups stayed at the number one spot on the Billboard chart, and it was said by the band to be a controversial song played at Mitt Romney's campaign. Andrea Saul, spokeswoman for Romney, said "Anyone who attends Gov. Romney's events knows this is not a song we would have played intentionally."
Lead singer of Silversun Pickups, Brian Aubert, said "While he is inadvertently playing a song that describes his whole campaign, we doubt that 'Panic Switch' really sends the message he intends."
With lyrics that focus on current issues, indie rock continues to evolve and gain popularity. Musicians must be aware of these issues in order to incorporate them into their pieces and make it to the top of the charts.