By Riley Cable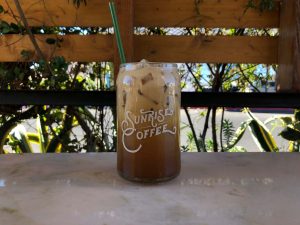 Drinking a cup of coffee before work or school everyday is essential for many. With tight deadlines and late nights, teenagers are becoming more dependent on caffeine, and many choose coffee as their caffeine of choice. There are so many establishments that cater to caffeine-addicted culture, but one has to be the best.
Starbucks
Starbucks is recognizable to mostly everyone, and since its opening in 1971, it has taken over the coffee world. Their atmosphere has become familiar overtime, and people continue to make it their default choice for coffee. Because they are so easily accessible, Starbucks tends to be the first place people go for their daily dose of caffeine in the form of coffee or one of their other drinks including teas, Frappuccinos and flavored Refreshers.
For a $3.65, customers can get a 16 oz. (or a grande at Starbucks) cold brew. Starbucks cold brew is a step up from their regular iced coffee which tends to be burnt. Although it isn't the strongest coffee on the market, it fulfills the need for a little pick-me-up. You are guaranteed to always get what you want because the coffee will be the same at every Starbucks.
The Coffee Bean
Even though it's less famous than Starbucks, The Coffee Bean, located on 2220 Village Walk Dr, is probably the second most well-known coffee shop. Brewing coffee since 1963, they also serve countless teas and ice-blended drinks, which are similar to Frappuccinos. The cold brew from The Coffee Bean honestly is better than any cold brew from any other coffee chain due to its unmatched smoothness and lack of bitterness, and adding creamer only makes it better. At $3.75 for a 24 oz. rich cup of coffee, The Coffee Bean seems like it would be an unbeatable choice until you look at their flavoring options. Vanilla, mocha, white mocha and more are available for enhancing coffee, but unlike most places, The Coffee Bean uses powders rather than syrup. In cold drinks, the powder doesn't completely break up, leaving a gritty texture. If it doesn't dissolve enough, there isn't much flavor.
The Coffee Bean meets expectations for the normal coffee shop vibe, but it doesn't exceed them. Similar to the atmosphere of Starbucks, there are simple leather couches and chairs to lounge in.  
Dutch Bros Coffee
Dane and Travis Boersma created Dutch Bros (590 E Windmill Lane), the country's largest privately-owned coffee stand, in (1992). It has recently become popular among teenagers because of their wide variety of unique drinks. Not only does Dutch Bros have a variety of coffee and tea options found on a normal coffee shop menu, but they also sell smoothies, sodas, lemonades, freezes and their special energy drink. With so many drinks on the menu, Dutch Bros may not completely focus on perfecting their coffee. The coffee wasn't that strong, and right away, it seemed to be watered down. At $5.75 for a 20 oz., you'd expect their coffee to actually taste like coffee rather than just straight cream and sugar.
Dutch Bros isn't your traditional coffee shop, and it is more like a stand rather than a store you enter. On-the-go people may love this type of establishment, but the control of customizing your own coffee is lost when everything is done for you behind a window. Dutch Bros is the best for new coffee drinkers who don't desire the authentic coffee taste and prefer the sweeter, less bitter beverages available there.
Bad Owl Coffee
Bad Owl, a Harry Potter-inspired café off of Eastern Avenue and Coronado Center Drive has the most unique atmosphere, as well as a large selection of food and numerous drink options. Along with coffee, they specialize in their food selection which was more than just pastries. They have multiple variations of avocado toast and sandwiches, like Chicken Pesto and Grilled Cheese. They have a few different cold brew options, but the Baristas' Cold Brew is the most potent coffee they offer. The coffee itself is strong but ultimately too light and creamy. For only a 12 oz. coffee, that isn't going to give you enough energy, $4.55 seems a little steep.
There is no doubt that Potter-heads will enjoy this coffee shop. The Harry Potter references cover the shop which makes getting your coffee more entertaining. Customers become so distracted with their surroundings that they don't realize that the coffee is nothing magical.
The Madhouse Coffee
The Madhouse Coffee is not as well-known as other coffee shops but definitely deserves more attention. The coffee shop, located at 8899 S Eastern Avenue, has a typical drink and food menu, but what makes Madhouse stand out from the other places is the lively atmosphere with its bright colors and eye-catching table designs. While waiting for or drinking your coffee, you can play with one of the many board games.
A 16 oz. cold brew ($3.50) has the boldest and richest flavor, so it should definitely please a picky coffee drinker. There is no doubt that you are getting energy because of the instantaneous reaction. The chill scene is worth getting out of your car for, but if you are in a rush, they also have a drive-thru, where you can still get their quality coffee.
Sunrise Coffee
Being so aesthetically pleasing, Sunrise Coffee should be everyone's first coffee shop choice. Along with the wide range of coffees and teas, there was a full breakfast and lunch menu, including vegan and gluten free options. The inside of Sunrise Coffee is very modern and filled with high table tops and a simplistic couch ideal for Instagram photoshoots. The patio is a wooden wall covered in vines that is the perfect place to take photos and enjoy a cup of sweet coffee.
The coffee itself is priced at $4.00 for a Medium (16 oz.), the common price for that size. The coffee was very light, so it was easily overshadowed by the cream and sugar and an unusual tart aftertaste. However, there is something for everyone at Sunrise whether it's enjoying something off their wide-ranged menu or getting new content for social media.
As for the best place to get coffee, The Madhouse Coffee checked off all the typical coffee shop standards and more. Their coffee also was the best quality for its price because of how sharp the flavor was and the overall atmosphere, making it the most worth it. Finding the perfect drink is important, and whether you decide to go to a local coffee shop or a popular chain, there will always be that drink to give you a caffeine fix to conquer your day.