By Lorin Enns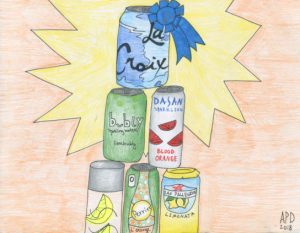 Few things can truly top the beauty that is a crisp can of La Croix, although not everybody would agree. When it comes to this delicious sparkling water beverage, people are typically divided: they either love it or hate it. Seltzer water, an invigorating fizzy beverage, gives the experience of soda without the mountain of sugar. Despite what the haters and internet trolls will say, La Croix is a refreshing, zero-calorie drink that everybody needs to start sipping.
The fight for the best sparkling seltzer water has become something of a community bicycle: everybody wants a ride. Dasani Sparkling, Bubly, Perrier, Pellegrino, and Voss are only a handful of the other companies dipping their straws into the sparkling water pool. Yeah, some of these are pretty good. Sure, Pellegrino is labeled as "mineral water" and served in fancy restaurants to make people feel better about themselves (because fancy is always better), but none of these wannabes can meet the standards of La Croix, the almighty Wisconsin-based Rockefeller of the sparkling water industry.
Let me tell you why La Croix is the best, friend. You see, La Croix has these bubbles, these small, soft bubbles that, unlike the other brands, will not stab your nostrils with carbonation. Competitors have a tendency to attack their product with bubbles, flaring up their consumers' acid reflux and ruining their Tuesday night. La Croix has just enough carbonation to tickle the taste buds and comfort them instead of murdering them.   
Recent news findings have brought to light a lawsuit filed against La Croix's owner company, National Beverage, claiming that chemicals found inside the bubbly drink were "synthetic," going against the company's "naturally-essenced" labels. This, as they say, is a load of fake news. Limonene, one such chemical in question, is a naturally-occurring substance found in the peels of citrus fruits. The other "horrendous, pain-inflicting chemical hellfire," also known as Linalool, is also a naturally-occuring chemical found commonly in flowers and an array of natural herbs and spices such as lemongrass, frankincense and lavender. Yeah, natural chemicals essenced from fruit definitely sounds pretty fake to me.
These findings caused La Croix to become fodder for online memesters, and whether or not that attention is good or bad, it's attention. Online memes have satirized made-up flavors of La Croix, several examples including "Hint of hint of lime," "single Skittle dissolved in water," or even "shy watermelon." Some have even gone so far as to compare the cool, carbonated feeling of drinking La Croix to touching their tongues to a 9V battery. Either way, I'm shocked. La Croix is delicious; there is no question that these drinks, packaged in pastel-colored cans and cracked open cold by millenials everywhere, are delicious and continue to rise in popularity, becoming a seltzer sensation and riding the publicity wave to the top of the market. If winning the public's attention isn't enough, La Croix received an official letter of recommendation from a writer at the "New York Times Magazine," singing its praises.
People these days try to spitball a handful of reasons to avoid falling onto the La Croix bandwagon parade. Maybe they're lonely contrarians, begging for attention by openly hating things that everyone else thinks is lit. Maybe they fall into the category of people who march to the beat of their own drum and renounce the popularity of mainstream Americana. There could, hypothetically, be a possibility that some people just can't bother themselves to get on board with essensed soda water. Why do these people still not appreciate this flavorful, zero-anything, guilt-free nectar of life? The world may never know.