By Aubriana Weisbach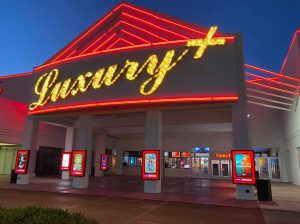 After a long year of no movie theater experiences, select theaters have reopened. There are quite a few good options available to see. Grab your favorite snacks, and go see a great movie with some of your friends and family. 
The beloved tales of Tom and Jerry have been around for a while, and now the rivalry appears on the big screen. This is a family comedy rated PG, so it is great for all ages. In just under 2 hours, you get to see the rivalry between Tom and Jerry unfold in the setting of New York. The conflict between Tom and Jerry threatens the work of a wedding planner by possibly destroying the wedding and the hotel at which it is being held. It's sure to bring back some of your favorite memories as a kid.  
"I used to love watching Tom and Jerry cartoons every night after my homework as a kid," junior Jacob Labar said. "I would like to see how this movie plays out in comparison to the cartoons." 
Throughout the course of this 2-hour movie, a warrior, Raya, has to work to stop the conflict by finding the last dragon who is the only one that can restore the peace. Raya completes the quest of finding the last dragon after multiple years, and now she must help the dragon to restore the relationship between the two lands. This film is rated PG, so anyone can see it. Raya the Last Dragon has a high rating among critics and has received a 94% rotten tomato score. The film is also featured on Disney+. 
Rated R for violence and language 
The legendary video game is being brought to life with this film, so there is no surprise it's rated R. In about 2 hours, the movie shows the story surrounding the martial arts featured in the video game since its release in 1992. This fantasy and action-packed movie is sure to impress lovers of the game.   
"My best friend and I have been playing against each other in Mortal Combat for years," junior Tiffany Day said. "It would be interesting to see how they turned the game into a whole story."
Rated R for violence and language 
This horror film features a storyline where the Earth comes alive one night when a scientist and park scout venture into the woods. This terrifying situation leaves the two trapped by some outside force, and they must work together to make it out alive. This is also yet another film that is right under the 2-hour mark. 
"Horror is one of my favorite genres of film," senior Joanna Grigoruta said. "I hope to be able to see this movie soon."
Not every Vegas theater has reopened, so make sure to look and see if the one you wish to go to is currently open. Obviously, mask mandates still apply, even when audiences are watching the movie in the dark theater. Be sure to plan a trip down to one of your local theaters soon and see one of these highly-rated movies.