by Madison Kitch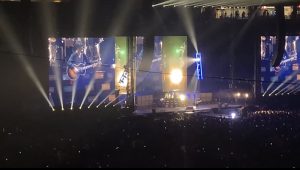 Live music is special to everyone, but the Covid-19 lockdown made us remember exactly how special it is. Standing in a crowd and shouting as loud as possible is an unmatched experience, and I was ready to get back. Many peoples'  first concert after Covid was the Hella Mega Tour with Green Day, Fall Out Boy, and Weezer. There is literally no better concert to start with after Covid (the 2022 April Deftones concert looks to be a close second).
The concert was scheduled and planned back in 2019 but had to be rescheduled for obvious reasons. Their first stop was the Globe Life Field in Dallas, Texas. July 24 was a magical night. Besides the expected parking nightmare, the venue was nice. The line to buy merchandise was long, but any regular concert attendee knows what to expect.  
The Interrupters, a female-fronted band, got the show going in the late afternoon with their setlist of around eight to ten songs. They started with one of their most popular singles, "A Friend Like Me," and the show only went up from there. Lead singer Aimee Allen put on a strong performance, and her voice was incredibly clear throughout the entire stadium. The group also did a cover of Billie Eilish's "Bad Guy." A personal favorite was their closing song. I can absolutely see the unnamed subject of "She's Kerosene" becoming as well-known as All Time Low's "Maria" or We the Kings' "Juliet."  As a whole, the group sounded very reminiscent of No Doubt. They've found their niche in a ska-type genre, and they should be applauded for it. 
After The Interrupters got the crowd going, it was time for the first big band of the night. Weezer is infinitely less 'punk' than Green Day or Fall Out Boy, but this means nothing in terms of talent. Kitschy and weird as always, Rivers Cuomo serenaded the crowd with the 17-song setlist (and a new mullet). The band also played their recent hit, "All My Favorite Songs" live for the very first time, and it was as wonderful as you'd expect. At one point in their set, Weezer also performed their cover of "Africa "- and promptly forgot the lyrics. As silly as it was, it reminded the crowd that these legendary singers are people too.
"Weezer's [performance] was really campy and fun, but they weren't super high energy," junior Stella Garner said. "They were the first band of the night so there weren't a ton of people there yet."
Fall Out Boy appeared next in a burst of flames- literally. Several times throughout their high-power performance, flames started going off from the side of the stage (and even from Pete Wentz's bass guitar). They opened their set with a Twilight Zone-esque backstory, which I was personally not a fan of. Then, they performed  "The Phoenix," a popular song from their 2013 album Save Rock and Roll. Fall Out Boy was a little less interactive with their fans compared to Weezer and Green Day. However, July 24 was their first time performing in a long while, so members were probably just nervous. Throughout their setlist, they performed "Uma Thurman," "Dance, Dance," and the spectacular "This Ain't a Scene, It's an Arms Race."
Three bands, two bathroom breaks, and one overpriced merch shirt later, Queen's "Bohemian Rhapsody" played while a video montage of Green Day throughout the years played. Someone in a pink anthropomorphic bunny suit came on stage to get the crowd going (cooler than it sounds). After a long six minutes, Billie Joe Armstrong ran out on stage, followed by Mike Dirnt and Tre Cool. They (unsurprisingly) opened with "American Idiot," one of their most popular and political songs. Much of what they played was off of American Idiot (2004) and Dookie (1994). Dookie is one of the band's most popular albums, and it shows in their setlist. "Welcome to Paradise," "She," "Longview," "When I Come Around," and "Basket Case" were all played live.
"Green Day seemed like they wanted to make it a whole show. They had the bunny come out before, and then they had 'Bohemian Rhapsody' play," Garner said. "They had it all planned out, which I thought was really cool."
Armstrong is an enigmatic performer, and he continually talked to the crowd between songs. At one point, he brought a fan onstage, played alongside the fan, and then gave the fan a guitar. He also invited a fan up on stage during "Know Your Enemy" and let the lucky listener crowd surf. All three main bands were great, but it was obvious who knows how to entertain a crowd.
The 2021 Hella Mega Tour will never be forgotten by those who saw it. The tour will see the UK and Europe next summer, where they'll be received just as well.
"As a whole, they were all great bands who played really well," senior Madi Lantz said. "They were very interactive with their fans."