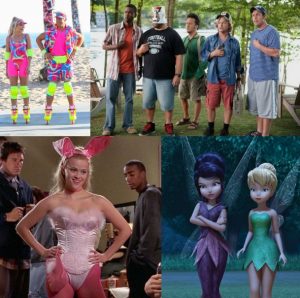 by Aubree Gearhart
Every year the overused and overrated costumes come out to play of which include, the typical fire and ice duo or the Suicide Squad star that everyone knows a little too well,  Harley Quinn. I mean seriously I'm honestly tired of seeing it; it's time to retire the 2016 costumes. Instead of having the yawn fest that is overused costumes, let's talk about the costumes that I absolutely NEED to see this Halloween season. 
We've all seen the cheesy couples dressed up as Peter Pan and Tinkerbell, but to be frank, I'm bored. Give me Tinkerbell and Vidia. Their intense relationship makes them the perfect duo to see this Halloween. Plus, there was an entire tik tok trend built around the two characters. Get the sassy blunt friend in a purple fairy costume and the sweet shy friend in a green fairy costume. It's that simple.
Now for my couples, I know this might sound a tad basic, but let's be real; we never really see this costume. There is a new movie coming out next year for Barbie and Ken. Be The trendsetter and let's see those pink fits. For those that are saying the movie isn't even out yet and they can't dress up as them, this is not an excuse. It's Margot Robbie and Ryan Gosling dressed as barbies – come on who doesn't love that? Be hip be happening, it's so cute.
This is for my comedic friend groups who want to dress up together. This costume is one that I feel you must have the right group for it to be executed well. If a friend group were to pull this off, it would be absolutely hilarious. These outfits are simple to recreate. Really all you need to rock this Adam Sandler movie are baggy T-Shirts and shorts. For this costume you may not even have to leave the house, just look in your family members' closet to find what you need. Whoever dresses up as Eric, just throw a KFC bucket on your head, and you're golden. 
For my solo girlies, this is the perfect costume for you. Elle Woods dressed as a bunny. This costume to me is absolutely iconic. You can never go wrong with an Elle Woods moment, and frankly, I have never seen this costume. I mean think of the insta caption "I love costume parties". Yes, this may be a very niche costume for those who have seen the movies and will understand the reference, but those that get it, get it.  Yes, this costume might be revealing, but the people who have watched the movies will appreciate it and hype you up. 
Though these are only a select few on my insanely long list of costumes, I think these are the most iconic and unique. After reading these ideas, let's leave the Harley Quinn costume from 2016 in the closet.