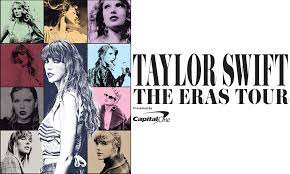 by Aubree Gearhart
As everyone should know by now Taylor Swift is going on tour in 2023. If you've been keeping up with the world's largest pop star then you know that so far, it has been nothing but bad blood.  
For those that don't know, let me break it down. 
On November 1st, Swift announced on social media that she would be going on tour; Taylor Swift: The Eras Tour, is the first leg of the tour and is held in stadiums all across the US. For this tour,Swift's way of shaking it off this tour was to partner with Ticketmaster and Capital One to promote 'presale' tickets.
Presale tickets were available on two dates, Nov. 15th and 16th. 
The presale on Nov.15th was hosted by Ticketmaster. Ticketmaster held this sale to "verified fans" only. 
Fans received presale codes that gave them the opportunity to purchase tickets. In order to become a verified fan, fans were required to register between Nov. 1st and Nov. 9th, so they could be admitted into the 'selective group'. Becoming a verified fan did NOT guarantee that fans would be able to participate in the presale. Instead, these fans were randomly selected to receive codes on the evening of Nov. 14th. Even some who received presale codes were unable to purchase tickets due to scalpers buying tickets in bulk and reselling tickets for astronomical prices. Those who did not receive codes were then put on a "waitlist" which did absolutely nothing in regard to presale. 
The second presale date was held by Capital One, specifically for Capital One cardholders. These fans were able to use the first 6 digits of their Capital One card for a promo code for the sale. Most fans that attempted to snag tickets this day were still unable to. Why is this? You guessed it. Good ol' scalpers stealing everyone's tickets from right under their noses.
Several are saying that when they would go to put in their card information to purchase the tickets, the website kicked them out saying someone already bought these tickets even though they were in the purchaser's cart. 
Now that the presale Hunger Games are over, Swifties are left with one final possibility, purchasing tickets when they go on sale to the general public. Oh wait, they can't anymore. Why? Because Ticketmaster was immensely underprepared and canceled the general public sale. 
Ticketmaster released a statement on Twitter saying "Due to extraordinarily high demands on ticketing systems and insufficient remaining ticket inventory to meet that demand, tomorrow's public on-sale for Taylor Swift | The Eras Tour has been canceled."  
Ticketmaster later published a statement explaining how they were absolutely prepared. Clearly, we can see by the string of events that this is a completely false statement. If Ticketmaster had been prepared they would not have canceled the general sale date, and would not have sold out of tickets during the presale.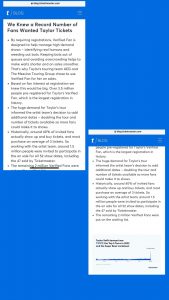 Ticketmaster then removed both statements from their platforms.  It's believed that  Ticketmaster retracted their statements because they were receiving too much backlash from irate fans. 
The Tennessee attorney general, Jonathan Skrimetti, made a statement on how he is concerned about the Ticketmaster presales. Skrimetti started an investigation to expose and redress these Ticketmaster issues. 
Swifties on Tik-Tok are posting videos on how those who purchase tickets for the concert should be required to take a quiz about Taylor Swift or her music in order to be able to purchase tickets -hindering the chances of scalpers to purchase tickets. 
Friday morning Taylor released a statement in response to Ticketmaster on her Instagram story stating that she and her team asked Ticketmaster several times if they would be able to handle the mass amounts and Swift and her team were assured that they could.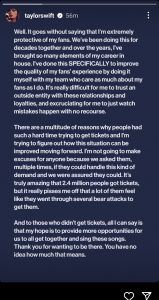 To be fair if the Swifties were in charge of ticket sales, this fiasco more than likely would have never happened.