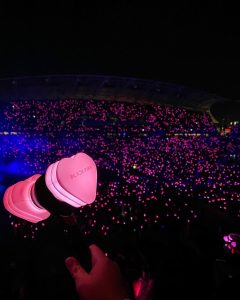 by: Ienka Santos
On November 19th and 20th, the global sensation all-female K-Pop band, Blackpink with its members Jennie, Jisoo, Rosé, and Lisa, held their final concerts to conclude their North American tour.
Their performances were quite a sight to see, with songs ranging from the start of their careers all the way to present time, it was truly an impressive lineup. The shows were split into four different acts, each one separated by a special video.
Blackpink opened their show with a VCR (pre-recorded video) of the members, with absolutely captivating scenes. They then followed with a grand entrance, with the group performing their hit song "How You Like That". After their entrance, the four girls continued on with their performances. Before the final song of the first act, the girls took some time to introduce themselves and greet their fans. They ended the act with one of their most popular songs, "Lovesick Girls".
The second act definitely did not disappoint. With a VCR including hints of the next song, Blackpink outdid themselves performing "Kill This Love", the song that took the world by storm and started trends on several social media platforms. They proceeded with a mix of songs from their debut album, Square Up and from their most recent one, Born Pink. Similar to the first act, the members also made time to spark up a conversation with the crowd, closing with one of their most recent songs, "Pink Venom".
Unlike the first two acts, the third act consisted of solo songs that the four girls individually prepared. The members performed in chronological order based on the members' ages, starting off with the oldest, Jisoo. She performed a cover of artist Camila Cabello's song "Liar". She also surprised the crowd with a guest performance by Camilla Cabello. Following right after was a performance by Jennie, showcasing her upcoming song, "You and Me (Moonlight)". After that, Rosé performed her solo songs, "Hard to Love" and "On the Ground", both of which are adored by her fans. To conclude the third act, the group's youngest, Lisa, shared her songs "Lalisa" and "Money", in which she performed with an explosion of charisma and stage presence.
The fourth act contained some of their more fan-favorite and upbeat songs, such as "Ddu-du Ddu-du" and "Forever Young". Many fans believed that the fourth act was where the show ended, but the group had something else in mind.
After what seemed like forever, the four members once again emerged from within the stage for an encore performance. Both a fun and emotional one to say the least, with songs that created the strong bond of the group and their fans, the show was truly a memorable experience.
For their next concert, Blackpink will continue the second half of their world tour starting in Europe, and then making their way to Asia.