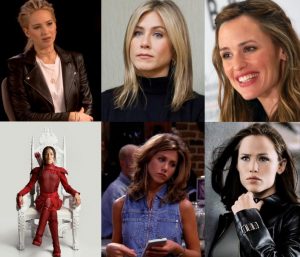 by Addison Stanton
If you want any chance of having a celebrity baby, naming a baby girl Jennifer might be your chance to accomplish that dream. Let's begin with this small factoid: two of the Jennifers discussed today are in the top 20 highest-paid actresses of 2023 so far. Here is the essential question: Which is best? Leave it to me to help you solve this dilemma by diving into three Jens in the film industry. 
Jennifer Lawrence: The girl that played the 'Girl on Fire' and fell at the 2013 Oscars
Jennifer Lawrence's jaw-dropping, inspirational, heroic, insane depiction of Katniss Everdeen in The Hunger Games Trilogy was (and still is) an absolute masterpiece. With her starring as Katniss in all four of movies, every single film did not disappoint (except for Mockingjay Part 2, but not her fault). Let's not forget that the year that the first film was released, another brilliant movie called Silver Linings Playbook was released. 2012 was truly Lawrence's year as she skyrocketed to fame in true style with every little girl wanting to be Katniss, and all of the adults wanting to live up to Bradley Cooper and Lawrence's relationship from Silver Linings Playbook. Her stunning performance earned a nomination and won Lawrence an Oscar in 2013, which she fell on the stairs receiving, which is a step in the right direction to becoming the next Meryl Streep (who has won 3 Oscars). All in all, she still proves successful as she has been in numerous other top-rated films since 2012.A few of these movies include The X-Men Series and Don't look up.
Jennifer Aniston: The girl who played Rachel Green and the woman that does not age
It is impossible to fully dissect Jennifer Aniston's career. From her iconic moments as Rachel Green in Friends to the one chick that made herself and Aveeno lots of money with her endorsement. Let's just say, Friends worked miracles. Not friends, Friends. Aniston slayed the stage with her decade-long stint on the Sit-Com as Rachel Green. This one role won her a SAG award, an Emmy, and a Golden Globe. She then continued her career winning several more awards that only (mostly) talented people own and playing in three movies with Adam Sandler. The woman also receives more than just kudos for her incredible skin. A more than popular lotion brand (Aveeno) utilized Aniston's inability to age in several commercials. She makes $10 million per year for her endorsement and has been going strong with that since 2013. Just keep in mind this is not even a third of Aniston's resume. 
Jennifer Garner: The girl who played the spy and the woman from the South
Espionage, deceit, secrets, and lies are all packed into one series called Alias. Her role as Sydney Bristow, a spy with a very 2000's haircut, truly got Garner some brownie points. Garner absolutely destroyed this role as she starred in five seasons of the show. This role opened up opportunities to play in movies/tv shows that made top dollar. She is also one of two Jens to be married to Ben Affleck, the lover of Jens. With their marriage lasting a solid 13 years, Affleck swiftly chose his favorite Jen (Jennifer Lopez) and cut the knot with Garner, and tied it with Lopez. Garner also operates a Youtube channel that stars her in her own cooking show and even sprinkles in a bit of Alias clips with it. Although she is a less popular Jen, it doesn't mean she is not a strong contender in this battle.
With these short and sweet biographies in mind, consider all of the facts and exaggerations to find your favorite Jen. If you still can't decide there are plenty more facts out there for you to discover. If I have changed your mind on your favorite Jen, just simply do what Ben Affleck did and switch Jen's.