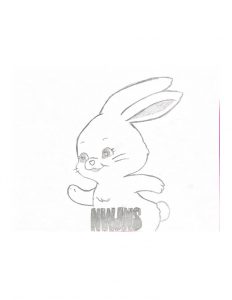 by Ienka Santos
The K-pop industry has come a long way since it was first established. From adapting new music styles to breaking through the U.S. billboard charts, this industry has truly flourished. However, recently there has been a continuous pattern of K-pop groups releasing the same type of music, leaving fans tired. This was until a new group under the independent label Ador was released. This group is none other than NewJeans, a group consisting of five members: Minji, Haerin, Hyein, Danielle, and Hanni. This girl group has taken over the K-pop industry.
"I love them!" senior Paola Solaegui said. "Their music is really catchy, and they're so nice toward their fans." 
Their songs radiate nostalgia, with themes that can be found in older generations of K-pop, even if it's just for a moment; NewJeans had stopped the ongoing pattern of dance and pop music. These five girls have given fans a breath of fresh air.
"The music they produce is very unique in my opinion," Solaegui continued. The instrumentals, ad-libs, and extra background sounds are something I have never heard of for sure. Their style is definitely a bit abstract, and that's what catches the attention of people" 
Recently, NewJeans came out with two new singles, "Ditto" and "OMG", that bring back old memories. With hints of lofi and electronic tones, these two songs dominated the charts only days after their release. 
It is fascinating how this group only debuted six months ago, but they are already considered South Korea's "It" girl group. With different named brands, such as Mcdonald's and LG, wanting to score a deal or collaboration with these girls, they have gone so far in only a short time.
"Their y2k (early 2000's) style is the most popular amongst all of K-pop." Solaegui said. "The way they dress to their age and keep everything fitting to their personalities is a breath of fresh air to K-pop in general since styles and trends have changed so much with young trainees and debutants." 
 NewJeans have started a new era in the K-pop industry. With their debut only happening six months ago and already in such a popular era, we can only expect to see them more in the upcoming years.