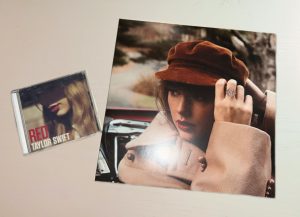 Before and After // Showcasing new album art, the re-recording version of Taylor Swift's Red was one of the first re-recordings the singer released. The new versions of the songs reflect Swift's gained life experiences and emotional maturity since the 2012 original. (Photo by Siena Howard) 
What Taylor Swift's Re-Recordings Mean for Artist's Rights
by Siena Howard
On August 9th, at approximately 10:45 PM, Los Angeles' Sofi Stadium erupted in a chorus of excited screams sure to wake up any nearby residents. Famed singer Taylor Swift had just announced the upcoming 1989 (Taylor's Version), her reimagining of the 2014 original released by Big Machine Records. Releasing on October 27th, the record will be the fourth album to come out as part of Swift's re-recording project.
The hype for 1989 is only building upon the shocking success of Swift's re-recording ambition. So far, both Red (Taylor's Version) and Speak Now (Taylor's Version) have surpassed the original albums in sales and streams. Meanwhile, Swift's fan base has grown exponentially in the past few years, and her Eras Tour has generated millions in revenue. Given all of this, the recreated albums have been nearly unavoidable. To many onlookers, this may be met with confusion: why the excitement over hearing the same old songs released again? 
The answer lies in the reasoning behind the re-recordings. To Swift's fans, a (Taylor's Version) beside a song's title means more than just a new version of a song— it signifies Swift reclaiming her work from the people who have wronged her. Swift originally decided to re-record in order to own her masters, after the rights to her songs were sold by Big Machine Records CEO Scott Borchetta to Scooter Braun without her approval. An artist's master refers to the original copy of a song and the permissions copyright issued on that song— what allows songs to be used in commercials, movies, films, sound samples, and more.
Typically, record labels ensure ownership of all copyrights for music in their contracts with artists. A major label's marketing, distribution channels, and funding often come at the cost of handing over all licensing rights. Then, artists make money off the royalties they earn under that label. Many times, artists sign deals with labels when they are young and new in their careers, and labels take no steps to make them aware of the long-term consequences. The masters are often licensed to the label for years and even past the artist's lifetime, meaning that the music may be used in whatever way the label decides even without the artist's input. Swift has fought against this because as a singer-songwriter, her songs hold special value. She has also advocated for higher royalties, switching from Big Machine Records which only offered her about 15% to Republic Records which reportedly offers 50%. By re-recording her songs, she regains ownership of the copyright permissions for them. 
Other artists in the past have returned to the studio in an attempt to reclaim their art. For instance, bands U2 and Blondie have re-recorded several of their songs to be featured on compilation albums. Singer JoJo re-recorded her early 2000s albums to, as she put it, regain agency over her career after leaving her previous record deal. Although she is not the only one, Swift's re-recordings have definitely been the most talked about. Through her record-breaking success, Swift has brought new attention to issues of artists' rights and set a precedent that defying the industry can be greatly rewarding. 
Swift's advocacy for artists' rights seems to coincide with a time of greater awareness about the exploitation of creatives as a whole. Amidst the ongoing writers' and actors' strikes, the general public is placing pressure on large entertainment companies, and the disillusionment with record labels is no exception. More people are talking about music as intellectual property than ever before: Taylor Swift's fans, radio listeners, and even award show attendees are now made aware of the issues. Artists, as well, are finding the courage to speak up: for example, artists Demi Lovato, Justin Bieber, and Ariana Grande have all recently left Scooter Braun's management.
As more artists continue to go their own ways, seeking new negotiations and licensing deals, and as the internet provides independent ways of publishing music, the formula to success in the music industry is changing. Artists are no longer afraid to defend themselves, because not only do they have the technology, with Swift's achievements, but they also have proof that it can work.