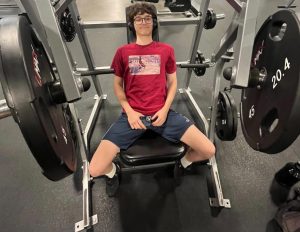 Prepping to press// In between sets, senior Talan Yamasaki smiles shyly for an unexpected photo. After setting his music queue to 80s classics, his favorite genre, he's ready to get back to training. (Photo by Ty Yamasaki)
Senior Spotlight: Talan Yamasaki searches for success one tussle at a time 
By Mariska Roberts
Overcoming pain through perseverance, Talan Yamasaki has already found his passion in pushing physical limits. He finds a sense of peace in the combative sports of kickboxing and jiu-jitsu as well as weight training and other activities in the gym. Originally from Anaheim, California, Yamasaki went from bright skies and ocean waves to right hooks and a resilience to pain. 
"Coming to Vegas, the culture here was really shocking to me," senior Talan Yamasaki said. "I do miss the California environment;, I wish I could visit more. When I got here, I started fighting for a few reasons, I wanted to make friends and learn self-defense. I also just love the competitive aspect of sports; fighting is great because everybody strives to be better than their opponent, so there's always something to improve. I constantly get to push myself to do better and it's always rewarding to experience hitting a new milestone. Jon Jones really inspired me; He's been my favorite fighter since I learned who he was."
Talan has worked diligently in the gym to perform at his best. He works on conditioning and shadowboxing daily which help his movement control and accuracy. In addition to the frequent in-gym activities, he likes to go outside for runs at least three days a week. Additionally, he plays basketball at a local park. Like fighting, basketball puts him up against new opponents often. He does this because it teaches him quick reactions to unexpected movements; it also provides consistent competition against people with greater skill.
"There's a lot of dedication involved," Yamasaki said. "I have simple responsibilities which are to stay in shape and keep my diet clean. The most challenging part was learning the self-discipline to stay consistent. At first, I didn't enjoy fighting because it was unfamiliar and my body was sore, but once it became a habit, I found that it's a good way for me to release pent-up emotion." 
 Despite not being the most social butterfly, making friends wasn't difficult for Talan Yamasaki. 
"I'm pretty laid back, honestly," Yamasaki said. "My friends would say I'm humble; I don't talk about fighting a lot with them. It's better to just live in the moment. One of my favorite things we do is going on drives and listening to music."  
Early in his transfer to Henderson, he was fortunate to make friends who were supportive of him, remaining friends with people he met early on is something he's especially grateful for.
"One of my favorite memories was when I was up against a friend of mine," Yamasaki said. "We weren't allowed to make each other tap (surrender) for 10 minutes; it was a big test of physical and mental endurance. I had a lot of fun, and I was really proud of myself that day."
Success is ultimately what drives Yamasaki to continue even through hardships. He yearns to feel accomplished with himself as an individual by pushing his limits and remaining authentic.