By Izzy Schmidt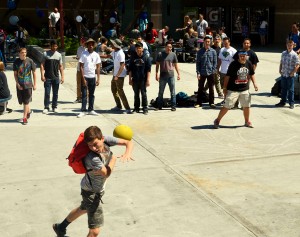 Walking onto campus Monday, students were bombarded with visions of guys decked-out in camo prints and girls sporting flower headbands. A "Battle of the Sexes" is the theme for Spring Spirit Week, April 7-11.
Each day this week, the boys and girls go head-to-head in lunch activities and costume contests. The school is even decorated for the occasion, one half with pink posters, the other with blue.
"Oh gosh, it's on fire! Girls will dominate," Alexa Nappi, freshman, said.
For the first day of Spirit Week, the theme was floral verses camo. The campus was bursting with bright flowered skirts and headbands, and slightly resembled a war-zone with so many students wearing camouflage. At lunch, large foursquare games that were guys-only or strictly girls dominated the quad.
"I think the girls will kill it," Ryan Everson, junior, said. "They're much more organized."
Lumberjack against Betty Crocker is the theme for Tuesday. Students were encouraged to dress-out as hardy lumberjacks with plaid and beanies, or as a baker with aprons and oven mitts. The planned lunch activity for this day is a pancake eating contest.
On Wednesday, students are encouraged to do their best t-bird or pink lady impression. Leather jackets, white shirts, slicked hair, black jeans, and poodle skirts, high ponies, and pink are the styles. As for lunch, there will be carnival games to play.
Students will dress-out as their favorite sorority or fraternity this Thursday. Get your Kappa Kappa Gamma or Delta Tau Delta on! Each lunch has a game of water pong on the agenda.
To top off this spirit week, it's blue against pink on Friday, the most popular of all dress-out days. There will be a barbeque and face painting at lunch. The Spring Assembly will take place during sixth period.