By Rayne Hayes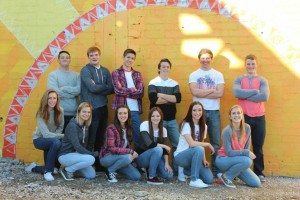 After many years of putting on a Sadie Hawkins dance, Coronado StuCo has decided to not hold a dance. However, this doesn't kill the spirit of this longtime tradition, girls are still asking guys to Sadies whether there will be a dance or not.
Sadie Hawkins is a character in a 1937 comic strip by Al Capp called "Li'l Abner". She was portrayed as an unattractive woman who, at age 35, was doubting if she would ever get married. Her father then declared a Sadie Hawkins Day where all the girls of the town would ask guys out  on a date instead of waiting around for them.
"Sadies is a really awesome time of the year because it reverses gender norms which I think is really interesting," Kiana Azucenas, sophomore, said.
Sadies has evolved since 1937, from restaurants to bowling there are a lot of great date ideas.
There is the mainstream movie and dinner, which is always a good way to go leaving everyone happy. Stop by Texas de Brazil in Town Square or even the Elephant Bar at The District before or after heading to the movie.
"Texas de Brazil is a really fun setting, I think it would be a good restaurant for a group of people," Rylan Royce, freshman, said.
If someone is looking for a more active experience, SkyZone is a hot spot for Sadies. At Sky Zone couples can play dodgeball against their dates or even learn who can do a better flip on the trampolines, it features a snack bar as well.
Bowling is fun and more interactive than sitting silently in a movie. Bowling is definitely a go to especially if money is tight. Sunset Station has a nice bowling alley and GameWorks in Town Square features a little bowling alley in the back and a plethora of interesting arcade games.
A great date idea without breaking the bank is hiking. Hiking is a good way to be one with the outdoors along with the group. There are tons of different hikes that are in the Vegas Valley to experience. Ice Box Canyon being one of them. At 2.6 miles the canyon is a moderate trail with a breathtaking waterfall at the end during the winter season.
A fancier take on Sadies is taking a trip to the strip. Visit The Linq and even sit down with your date at Serendipity in located in front of Caesars Palace. This date is perfect if you have a little bit of extra cash to spend. During the night hours a ticket for The High Roller rollercoaster is $26.95 during the day hours it is less.
Sadies night can be special no matter the expense of your date. After all, this celebrates a day for female empowerment.