By Kyle Musler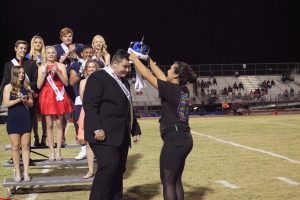 This year's Homecoming king and queen, seniors Dylan Ziegler and Shelby Burdo, were crowned during the halftime show on Friday, Sept. 23.
They were joined by their underclass counterparts, which were juniors Jake McLean and Drew Stewart as prince and princess, sophomores Thomas Kyong and Chloe Calaguas as duke and duchess and freshmen Mohammed Khalif and Alexus Marquez as lord and lady.
"I was surprised because I did not expect to win. I am very honored to win again, and I just want to thank my friends for supporting me," Kyong said.
Students voted from their cell phones and computers from Sept. 19 through Sept. 22.  Some court members campaigned by asking their friends to vote for them during lunch or after class. However, some of the court was completely surprised and did not campaign at all.
"I honestly didn't really campaign this year. I just asked my close friends, so it was a real surprise when I found out I was even on the court. I found out right after I got my wisdom teeth taken out so I thought it was a joke or I was dreaming. It means the world to win again, and it's such an unforgettable experience that I'm glad I got to relive from my freshman year. It really meant so much to me having all my friends' support," Calaguas said.
The senior king and queen participated at halftime and posed together for photos. The two smiled and waved to the crowd at the halftime show.
"It feels incredible. I'm so honored that my classmates chose me as king, and that is going to be a night I remember for the rest of my life," Ziegler said.