By Maddie Baker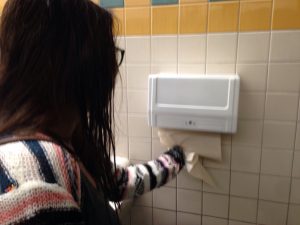 RSVP (Raise Student Voices and Participation) and ISCC (Interschool Club Council) have teamed up to fundraise money that will improve the quality of school. Last year, RSVP raised $9,000 to obtain hand dryers in restrooms in the quad, 200s, and 300s, which will be installed in Jan. This year third period teachers have been asked to select a class representative to attend an RSVP meeting. The first meeting is on Oct. 25 in room 503 during both lunches. Food will provided for those who attend the meeting.
"We are looking for open minded students and advocates for changes on campus. We want to know what could happen on campus to make it better and raise student voice and participation. Teachers are responsible for students' learning but also for how students feel. The students get to decide the necessary issues. We hope that individuals will discuss in their third period then present their ideas to us. We want to raise more money for the school and have the students' opinions to make school more enjoyable through topics and ideas addressed," Ms. Swenson, RSVP/ISCC adviser, said.
Third period teachers and club advisers emailed Ms. Swenson with the name and email address of the student chosen to be an RSVP member for their respective class or club by Oct. 21. Representatives will have individual ideas for the meeting.
"I think students need to be asked more about what they think about their education, and teachers need to trust them more when it comes to asking what is beneficial to them. Just asking students first hand what they can do to improve the classroom instead of going to staff development meetings that exclude kids' opinions helps students more," Destiny Farley, senior, said.
The goal of RSVP and ISCC is to improve the quality and environment of the school by working with students since students know what issues students are passionate about at school. Last year, they organized a fundraiser to implement suggestions made at previous meetings.
"I believe that the most important part of a school is the students, and RSVP allows students to have a voice and draw light to issues they believe are important. The information provided by RSVP allows administrators and students to work together to make Coronado an even better place," Ms. Harper, assistant principal, said.