By Paula Dispa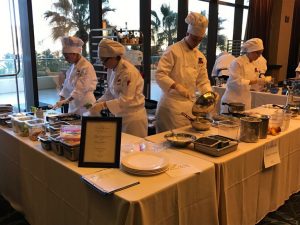 It was all about good eats and good business for the culinary team when they took first place at the Nevada State ProStart Invitational at the Red Rock Casino on Friday, Jan. 27.
"They are first year culinary students, and they did fabulous. They were so smart and aware and all their hard-work paid off. They've been practicing for over month from 6 a.m.-6 p.m., and they ended up taking the gold at state, so I'm very proud of them," Mrs. Taylor, culinary teacher, said.
At the competition, 80 students from across Nevada demonstrated their business ingenuity and culinary skill.
"The tournament was really hard and nerve-racking; however, it was very exciting when we won," Ethan Cooper, sophomore, said.
In the first part of the tournament, management teams developed a proposal for the next promising restaurant concept and presented it to a panel of Las Vegas industry judges. Next, their problem-solving skills were tested as they quickly solved challenges faced by restaurant managers daily.
"The hardest part about the tournament was time management since we had a short amount of time to prep, and it was pretty stressful having to go in and do our presentations," Brianna Morales, junior, said.
The culinary competition highlighted each team's creative abilities through the preparation of a three-course meal in 60 minutes, using only two butane burners and without access to running water or electricity. They were evaluated on taste, skill, teamwork, safety and sanitation.
"It was a great experience to meet the celebrity chefs, but it was nerve-racking to cook for them," Nichole Benigas, junior, said.
The three placing teams earned scholarships, honors, and the opportunity to compete against the best teams from other states at the National ProStart Invitational April 28-30 in Charleston, South Carolina.