By Sage Tippie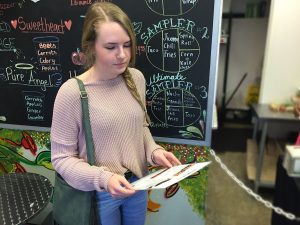 With veganism on the rise, more and more people are seeking vegan restaurants in the Las Vegas area. There are a number of vegan restaurants in the valley for anyone with dietary restrictions, or even those without, to enjoy.  
Vegenation
Vegenation is a vegan restaurant located on Fremont Street near the Container Park. The restaurant is among the pricier of the options; prices ranging anywhere from $5 to $20 for a single dish. With live music, brightly decorated walls, and a garden out front, this option has a positive ambience. They serve appetizers, breakfast, lunch, and dinner in a variety of flavors and styles. They offer specials like "chik'n and waffles" and the house veggie burger. For anyone with a sweet tooth, they also offer desserts like brownie sundaes and tiramisu, completely plant based. Enjoy vegan fare in a sunny atmosphere that makes you as happy as its food does.
"I really enjoyed eating at Vegenation. Their vegan sushi was really good, and even my friends who aren't vegan liked it. It's nice to have somewhere where we (vegans) don't have to worry about what we're eating and can order straight off the menu," Mina McCormick, junior, said.
Pancho's Vegan Tacos
This Mexican restaurant can be found on Pecos Road in Summerlin. It's worth the gas money for the affordable and delicious vegan options. Everything in the restaurant from the "meat" (tofu) and sour cream on the tacos to the cheese in the quesadillas is completely vegan. Pancho's doesn't sacrifice any of the classic Mexican flavor for food free of animal products. The most popular dishes include the flour quesadilla and soft street tacos, and the prices stay within the $5 to $10  range.
Simply Pure
Located in the Downtown Container Park, this vegan cafe offers both raw and cooked options for anyone and everyone. For what it lacks in space (with only three tables available indoors), it makes up in delicious plant-based food. Dishes include lasagna, nachos, and raw chili cheese fries, as well as cheesecake and sides like basil spring rolls and and kale chips. The restaurant also offers sample plates for those who can't decide on just one dish.
"Even though I'm not vegan, I still enjoyed Simply Pure's food immensely. The lasagna was even better than the normal kind, and I would definitely go back despite my dietary preferences," Kaylee Heiny, sophomore, said.
Vegeway
Vegans with cravings for fast food know the struggle of trying to customize their dish at a fast food restaurant, but at Vegeway, you don't have to. Vegeway, the closest of the vegan options, is a fast food joint located on St. Jones boulevard near the cinedome. Although the inside of the restaurant looks like any other, their plant-based options of classic dishes make it extraordinary. They have everything from copycat dishes of In-N-Out burgers to popcorn chicken to milkshakes, all completely vegan. With dishes for less than $5.00, this joint is affordable for most anyone, even on a budget.
Veggie House
Veggie House offers Asian food, all vegan. The prices go up to $15 for a dish. The location may be out of the way for most Henderson residents though, located on Spring Mountain Rd. They offer vegan options of every meat from goose to beef to fish. Classic Asian dishes are served, like ramen, kung pao beef, and General Tso chicken, all made from soy bases. Among the most popular dishes are the spring rolls, house lo mein, and orange chicken. With strong Asian elements in design, the restaurant feels like any other Chinese one, but it's animal product-free cooking makes it unique.  
"As a vegan, I think plant based restaurants are really important. We should all try to be at least a little eco-friendly. Even doing something as simple as eating a single meal at a vegan restaurant can benefit the earth in incredible ways," Gabe Garza, sophomore, said.