By Rosa Cesareo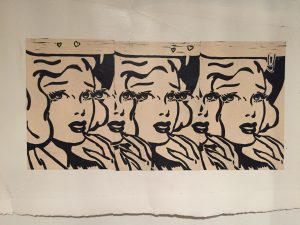 First Friday, a non-profit organization, brings inspiring art and culture to Downtown Las Vegas on the first Friday of every month. Many talented artists share their pieces in booths along the street as well as indoor studios, drawing crowds to view the colorful works.
Among the best were stunning depictions of nature by Priscilla Fowler as well as Francois Dubeau's abstract drawings of humanity. Havi Mandell's vivid canvases of religious figures, girls, and nature contrasted Dray's modern paintings of distorted people and patterns. Outshining all the others was Cristina Paulos's contemporary art, maintaining a simple, delicate style.
Local performers took the stage to belt a few songs each, much to the displeasure of listening ears. They weren't horrible and found the most success among biased family members. After a few acts, young boys between ages four to no older than 10 performed a jaw-dropping breakdance routine. A huge ensemble of people gathered, recording the adorable children spinning around on their heads.
For the post-dance famine, food trucks decorated the air with mouth-watering scents of sugary, salty, and fried treats. Greasy French fries from the chicken wing stand were phenomenal. The lively fire-blasting truck sold slightly burnt pizza that was a bit too sweet and a $3 lemonade that was a bit overpriced for the night's budget.
The atmosphere of the event was warm and friendly. Artists socialized (and danced) with prospective buyers and amateur critics, while some guests dressed in eccentric costumes and others offered "Free Hugs." First Friday was an amazing experience worth another visit next month, and the following month, and maybe the next.