By Paula Dispa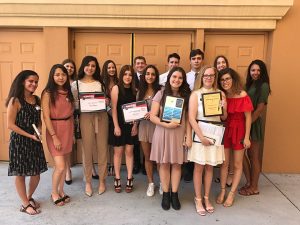 "The Roar" staff, along with principal Mr. Piccinini and adviser Mrs. Thompson, attended the Review-Journal Awards on Monday, May 22 at the Suncoast Casino in Summerlin. The "Las Vegas Review-Journal," Nevada's largest newspaper, holds an annual banquet and award ceremony to honor all high school journalists throughout the district, and schools such as Foothill, Bishop Gorman, Silverado, and Faith Lutheran were among the many that attended.
"I am so proud of my staff because they have worked so hard all year, and it paid off. It was fun seeing their shining faces when they heard their names being called for different awards. This is my third year going to the RJ Awards, and I always look forward to it. It is always a blast, and a great opportunity to show our work and learn for next year," Co-Editor-in-Chief Karen Pegueros, junior, said.
The RJ awarded "The Roar" third place for Best News Website, with Southeast Career and Technical Academy coming in first and Faith Lutheran coming in second. In the category Best Sport Photo, Pegueros had an honorable mention for her photo in "Women's varsity suffers tough loss." In the Best Review category, sophomore Lorin Enns also had an honorable mention for his piece "The iPhone 7: Say yes to the upgrade." Junior Paula Dispa and freshman Joshua Christensen won second place for Best Photo Illustration for "Basic self-defense tips for personal protection."
"I thank the Review-Journal for giving me second place on Best Photo Illustration. It was an honor to be one of the students from the staff to receive an award," Christensen said.
For her look into marijuana laws in "Legalization raises concerns," Rosa Cesareo, sophomore, received second place in the category Best News Feature. In the category Best Editorial Cartoon, sophomore Ainsley Davis won second place for her drawing in "'Feminism': say it." In the category Best Editorial, senior and co-editor-in-chief McKenna Cooley got second place for "Back gates need to be freed." Cooley, nominated by Mrs. Thompson and the staff, also received the award for Most Valuable Staffer.
"RJ was great this year because I won a writing award for my editorial which was crazy cause I am usually not the best with opinion writing, but I stuck that one out until I was happy with it. Then, to be nominated by Mrs. Thompson and the staff for the Most Valuable Staffer Award was a huge honor. I love the news team and the website so much. I am really going to miss everyone next year, but this was a great way to go out," Cooley said.
[Editor's note: to see or read these award-winning pieces on the website, just type the reporter's name or the headline in the search bar on the top right.]