By Rayne Hayes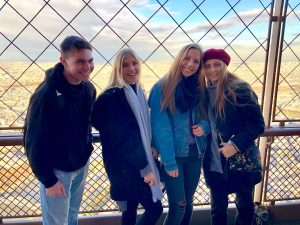 The only Eiffel Tower these students had ever seen was the mediocre remake on the Strip, but that was about to change. On Monday, Nov. 9, 13 students, along with Mr. Piccinnini and Mrs. Barlow, went to Reims, France and London, England, traveling as part of the foreign exchange student program.
Their journey started at the train station where their host families picked them up. Afterwards, they walked around Reims becoming familiar with their surroundings. On Tuesday they were French tourists and saw the trademark of Paris, the Eiffel Tower. They traveled to the very top and experienced the vantage point that every romantic movie depicts. Shopping, dinner, and photography added to the day eventually steering them to the Notre Dame, Arc de Triomphe, the Louvre, and Champs Elysées where the learned about the history behind the grounds they stood on.
"Soaring over the city in the elevator to the top of the Eiffel Tower was amazing, pictures really do not do the landmark justice," Alaina Bean, junior, said. "It's something everyone needs to see in person."
The itinerary led them to a biscuit factory on Wednesday where they saw bakers make rolls. While staring into the tiny windows, they got a glimpse behind the scenes of the process, and got to indulge in one themselves. Thursday their history class came to life when they went to the Palace of Versailles, which proved a learning experience.
"When we went to the Palace of Versailles, which was probably my second favorite field trip, it was really beautiful," Lindsay Best, junior, said. "It was amazing to see my history textbook come alive and an amazing learning experience for all of us because we all learned about the history behind the landmark."
On Friday, they went to the champagne house where they enjoyed fine grape juice in a dimly lit underground cave painted with art and carvings. Saturday led to an American favorite, laser tag where they met new kids from the area and grew relationships with those who traveled to France with them. On Sunday they spent a day with their host families enjoying homemade meals and learning more about their culture. The next day they traveled to London there they rode the famous red tour buses and cruised around the city seeing all the famous sights.
Italian foreign exchange students will come here next year from Feb. 24 to Mar. 3, and they are looking for host homes for that week. If interested in hosting an exchange student, Dr. Barkowitz, the assistant principal of activities, can provide the necessary information. In return those who host will get the chance to switch spots and travel to Italy in early spring of 2019.
"When I hosted her [Cassie] we went to Red Rock Canyon and did a beautiful hike there," Elyssa Fair, junior, said. "The best part about hosting her was getting to know her and her country and in the end we became really close to one another."