By Saveria Farino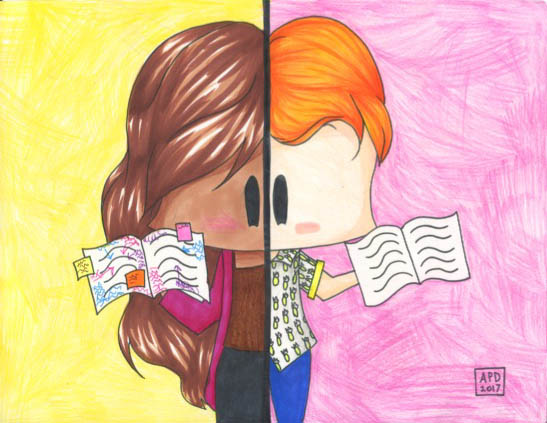 "Annotating," every English teacher's favorite word. There are two types of students in class: those with color coordinated annotations, pointing out syntax, tone, and literary devices, describing in detail everything's significance, and those who dread opening their books to simply underline a simile and call it done. Although the majority of the classroom may let out a  deep sigh when the word annotating is said by their teacher, having annotations as a requirement is beneficial in many ways.
For students, one bad grade can make that 80.5 turn into a 79.4 quickly. Annotating is not only an easy grade, but it also allows to students to make sense of the text while they are reading- a double win. This may lead to a slower read pace, but it will save time in the long run because at the end of the quarter, when that test or socratic seminar comes along, students will already have the work of finding evidence that supports the novel's message done.  
Because annotating is so flexible, it can be done anywhere and at anytime. Students can work on their own time and come back to school prepared to engage in conversation about the topic in class and group discussions. Students will grow academically because they excel on assignments having to do with the class novel. Students spend time at home understanding what they have learned in class with the help of annotations.
Annotating not only helps students recognize the author's style, but the more students close read the more likely they are to incorporate it into their own writing. One of the simplest ways to learn something is through mimicking it. By annotating, students become accustomed to incorporating the elevated styles of language they read into their own assignments.
Comprehension goes hand-in-hand with being conscious of the meaning of a book. Annotating makes grasping the author's message and purpose clearer. Nights prior to the test have no need to be spent on Sparknotes and Shmoop any longer because everything that is important to know is apart of the annotations.
Students tend to complain about annotations simply because they do not want to write in the new books they purchased. If a novel has small margins or students are unwilling to write in their books, sticky notes are a nice alternative leaving them with no excuse. Coming in a variety of sizes, shapes, and colors, students have multiple options. Some students even use the different colors to represent the different rhetorical devices, making their annotations more efficient and easier to comprehend.
Annotating is simply doing the hard work while reading and creating a reference for other upcoming assignments. It provides a head start for future tasks related to the text. The extra work will also boost grades and expand knowledge. Students should be required to annotate and even enjoy doing it because it is customizable to all and will only benefit and contribute to their success now and in the future.