By Ryan Kelleher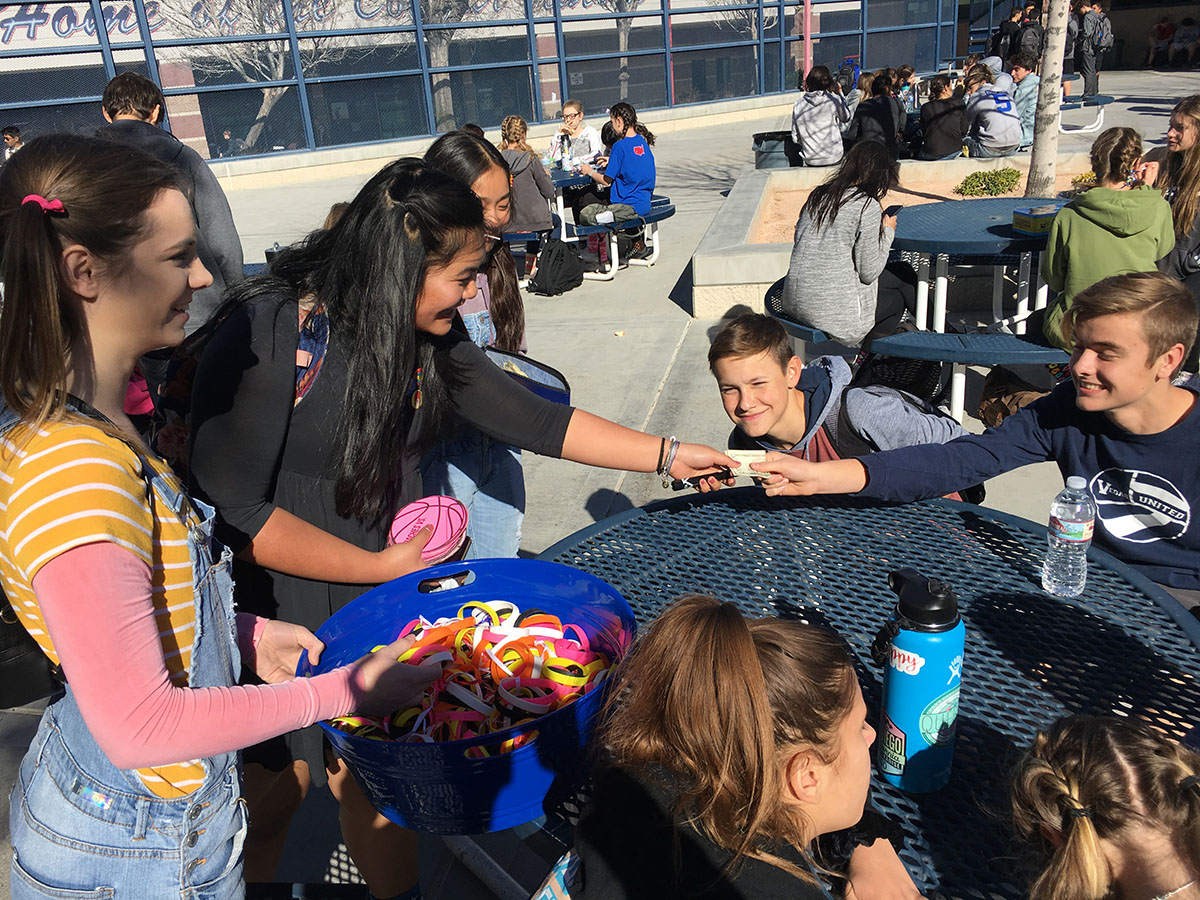 Friday Jan. 19
To commemorate the end of Peace Week, the student body dressed in blue as a sign of respect and kindness to all. Student council members also gave flowers to students at lunch. Students who received a flower were challenged to pass the flower to another student along with a compliment.
"Peace week was definitely a unique experience," Ryan Wilkinson, freshman, said. "My favorite part was receiving and handing out flowers at lunch. Even though I am not in Student Council, I enjoyed seeing someone's face when they got a free flower and a nice compliment."
Sunday Jan. 21
Many students, along with thousands of Las Vegas locals, attended the Women's March at Sam Boyd stadium on Sunday. The march was meant to honor last year's Women's March which took place in Washington D.C. Participants went to raise awareness for social and political issues.
Monday Jan. 22
Over the weekend, student leadership decorated the entire school with "The Wizard of Oz" themed decorations for the There's No Place Like Coronado spirit week. Part of the decorations included a yellow brick road made out of yellow sheets of paper, leading throughout hallways and under staircases. Each sheet of paper had a student's name on it, and Student Council encouraged students to find for their names.
"For previous spirit weeks, we let the student body vote on what on the theme would be," sophomore Alysha Nguyen, class of 2020 secretary, said. "Since this spirit week was so soon after break, Student Council decided on the theme in class."
Tornado Day started off spirit week, and students wore pajamas or comfy attire to school. At lunch, student council gave out hot chocolate, and a DJ set up speakers to play music. The DJ played music in the courtyard during both lunches throughout the week.
Tuesday Jan. 23
Tuesday's theme was Somewhere Over the Rainbow, and students wore tie-dye and neon attire. Any student dressed for the spirit day got free cotton candy from Student Council during lunch. Along with the free cotton candy, StuCo also took donations for cancer research at lunch. Students who donated a dollar received bracelets with anti-cancer statements on them.
Wednesday Jan. 24
Continuing "The Wizard of Oz" theme, Wednesday's spirit day was Lions, Tigers and Bears. The student body dressed like safari tourists and wore animal print. StuCo gave out animal crackers at lunch along with the usual activities of music and cancer research donations.
"I thought the animal print and safari dress spirit day was really creative and different," Paul Durant, sophomore, said. "I liked how it was a change up from the usual spirit days."
Thursday Jan. 25
On Thursday, students dressed up as toddlers by sporting crazy socks and crazy hair to celebrate Munchkin Day. Students received free lollipops at lunch. Thursday was also the last day for students to donate to cancer research. Previous donors wrote their names on papers shaped like basketballs. Student council members hung them up in Principal Piccininni's office displaying the name of anyone who donated.
Friday Jan. 26
The final spirit day for the week was There's No Place Like Coronado, and students wore white to show their Cougar pride. Grills stood at both sides of the courtyard, where students got free hot dogs from StuCo. StuCo also sold t-shirts and other Cougar gear in the courtyard.
"My favorite parts of spirit weeks is the barbeque on Friday," Katie Hamlin, junior, said. "My friends and I always like to see who can eat the most hot dogs. I also love how Student Council makes the week fun and less stressful than school usually is."
At the end of the school day, Student Council put on a "Wizard of Oz" themed assembly in the gym. The gym was decorated with flying monkeys and Dorothy's house. Student Council planned an array of activities for the audience to watch, and the dance teams and cheerleaders each performed an act. Theater also gave the audience a glimpse of their musical, which will be performed in February.
"When planning assemblies, we make sure we involve the crowd and plan activities for them to participate in," senior Nolan Phan, student body treasurer, said. "We also make sure we have plenty of teams and clubs perform for the student body."  
The finale to spirit week was a men's and women's home basketball game against the Bishop Gorman Gaels. Despite fighting hard, the men's varsity team fell to the Gaels, 49-85, while women's varsity won, 47-46.