By Sage Tippie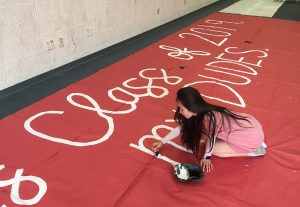 As the end of the year grows near, students prepare for the annual spring spirit week and boyband assembly. StuCo drew their inspiration for theme from a popular trend this year: Vine.
"We have learned that a Vine-themed spirit week is of high demand, so we decided to go with it," Tyler Cenname, student body president, said. "The assembly this Friday and the spirit week next week are the last ones this school year. I hope to see everyone in attendance and showing their Coronado pride as we end this school year on a high note."
RIP Vine Week kicks off on Friday, March 16 with RIP Vine Day, where students can show their grievance for the loss of the app by wearing all black. The annual boyband assembly also takes place on Friday in the gym at 1:10 p.m. The freshman, sophomore, junior, and senior boy bands will perform prepared dances and lip-syncing to compete for victory in the battle for best boyband.
Monday will be Can I get a waffle? Day where students are encouraged to wear pajamas or comfy attire. At lunch, StuCo will hand out free waffles to those in cozy outfits. Extra points for anyone who asks with the phrase, "Can I please get a waffle?"
Next is Hurricane Tortilla Tuesday, where Cougs wear bright attire, sporting school spirit with colorful outfits. Free nachos come along with the festive day.
Students embrace their inner superhero on Wednesday for It's Wednesday, my dudes Day, dressing like their favorite superhero in capes or colors. Along with the spirit day come fruit roll-ups, which Student Council will be handing out throughout lunch.
"I love spirit weeks because they give everyone the opportunity to get involved," Katelyn Virgen, junior, said. "My favorite spirit day coming up is Pajama Day because I'll never deny an excuse to dress comfy, and the free waffles are a plus."
On Thursday's Musical vine compilation Day students display their music taste by sporting band tees. At lunch, StuCo will hand out popcorn.
Spirit week comes to a close with Friday's Lebron James Day. Cougs show their school spirit by wearing athletic attire. StuCo concludes the week with a lunchtime barbeque.
"I think that spirit weeks truly make Coronado a happier place," Megan Van Alfen, junior, said. "The atmosphere with all the decorations, music, and spirit days make school fun to be at and the participation of students plays a huge role in creating that feeling. Getting involved makes you feel like you are a part of something. It's like one big family if you let it be."