By Ainsley Davis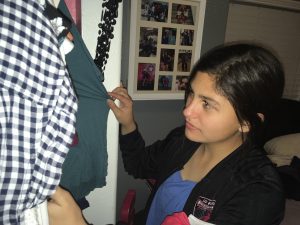 The Gay Straight Alliance will hold a clothing drive Monday, April 9 to Friday, April 20. All donations will go to The Center LV. Students can drop off donations in Portable 16 before and after school and during lunch.
"[We are] hosting a clothing drive because we are a club that's intent to serve the community in any way we can," treasurer Stacy Wright, junior, said. "Clothes are essential to everyday life, and many people struggle to get their hands on them."
The donations will go to LGBT+ youth, who struggle with homelessness and paying for clothes. They will also go to low income families that the center aids.
"The Center is great," president Jennifer Haber, junior, said. "They don't just help LGBT+ youth, but anyone with a moderate to low income. They have youth groups, and can be a source for tons of information."
The Center LV serves the community by giving to those in need and offering programs for LGBT+ youth. They host youth groups, prom events, and holiday parties. They also fund some Gay Straight Alliance groups in Southern Nevada.
"Not only is donating clothes helping someone in the sense that they're getting items they need, but they also know that people are looking out for them, and they feel a better sense of community," Haber said.