By Karen Pegueros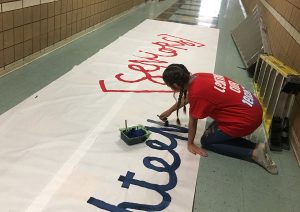 As the year dwindles down and there are only four weeks left to go, the annual senior week, when seniors are honored before they are sent off into the adult world, is finally here.
Monday gives seniors an opportunity to show off their future destination by coming to school decked out in their college gear.
Students can dress up as their favorite teacher on Tuesday. Additionally, Senior Awards Night is from 6 p.m. to 8 p.m., highlighting graduates for their accomplishments and scholarships.
"I'm very excited to dress up for 'dress up as your favorite teacher day' because I can't wait to be Mr. Isaak and experience what it's like to be a true math wizard for a day," Alee Baldono, senior, said.
Senior citizen day is Wednesday; Cougs can provide a sneak peak at what they might look like in a few decades. The AP Academy is also hosting a ceremony, honoring the first full four year class to graduate from the academy, where students will sign out of the book they signed into as freshmen. There will also be a reception after with snacks and refreshments. The academy will be handing out the stoles for graduation.
"I'm really excited to see it all come together because it's such a perfect way to capture our progression throughout these four years of working hard as part of the academy and the first class to complete all four years," senior Runi Chakraborty, AP Executive Council member, said.
On Thursday, students embrace their career dreams by dressing up as their future profession. The annual senior sunset happens later that evening on the field at 6:30 p.m.
The final day brings senior shirt day along with senior breakfast at 8 a.m. in the cafeteria. The senior assembly will begin at 9:30 a.m. in the gym and commence at 11:30 a.m. Seniors are then excused from the rest of the day.
"I think I am a little more excited about this assembly just because it's our true last assembly, and it celebrates everything we did through these four years as the class of 2018," Nolan Phan, senior, said.
On a final note: seniors can pick up their yearbooks at the annual distribution and signing party in the cafeteria from 8 – 9 a.m. on Tuesday, May 8. Yearbook students are selling tickets for $2 in advance or entry is $3 at the door.