By Kiley Brown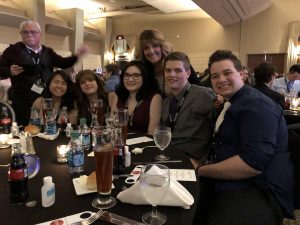 Winning culinary state teams competed for the national title in Providence, Rhode Island where the National Restaurant Association held the NPSI (National Prostart Invitational) from April 28-30. Winners were awarded with up to $1.5 million in scholarships, depending on what school they chose and tuition costs. Coronado came in 17th place out of 46 teams from across the country.
The competition highlighted the contestants' creative abilities as they made a three-course meal in an hour. Teams were only allowed to use two butane burners (portable gas-burners) without access to running water or electricity. Their performances were evaluated on their teamwork and safety, but their meals were judged on skill, taste and presentation.
"Their dedication leads to determination, studying, and testing all possible ways to improve their techniques, timing, equipment, and recipes," Chef Taylor, Culinary teacher, said. "I cannot even count how many mirror glaze recipes (a shiny chocolate sauce that is placed over mousse) and duck sauce recipes they tried before deciding on their final one."
Chef Ann Taylor and our state winning Coronado Culinary team competing at the national Pro Start championship In Providence. They are Pro Level. End of discussion. @CoronadoCooks @MikeMbarton @CTEinCCSD @ClarkCountySch pic.twitter.com/jvgOjCA0n6

— Mike Piccininni (@coronadocougar) April 28, 2018
Ever since October, the team has been practicing for NPSI, staying at school from 6 a.m. to 5 p.m. every weekday. In these intense practices, students created an original menu and practiced as if they were already competing.
"It's been an emotionally and physically draining process, but the friendships and success we have made over the past six months have been worth it," Lily Russell, junior said. "I couldn't be prouder."
Apart from the competition, senior Bettina Bautista, won the Epicurean Scholarship (given to local students who are passionate about a career in hospitality or culinary arts) and a new car, by taking part in a series of five interviews. At the end of her final interview, Bautista, along with other students that received the scholarship, was awarded with $33,000.00.
We're here 🙂 So excited to be here! Check in tomorrow! https://t.co/GaaGIcnePu

— Ann Taylor (@CoronadoCooks) April 27, 2018
"It was unbelievable to win the award," Bautista said. "It was very overwhelming for me. There was so many things happening at once with the scholarship, and the car was quite a surprise. I am truly grateful for everyone that made this possible, including the donors, my culinary team, my culinary instructor, and my family."
Starting soon: culinary will prepare for competitions starting next year.