By Maddie Baker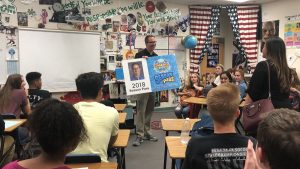 In honor of Teacher Appreciation week, Cowabunga Bay Waterpark and CCSD awarded six teachers, including US History and History of Popular Music teacher Mr. Johnson, with free season passes and a two-night stay at Sunset Station for them and their families on Thursday, May 10.
"This experience was great not only because it was an honor to get it, but also a former student remembered me and got to give it to me," Mr. Johnson said. "Plus, my kids thought I was the coolest dad in the world when I came home with four Cowabunga Bay yearly passes."
The other winners include James Orr from Cram Middle School, Mary Brickles from Hancock Elementary School, Courtney Marsh from Frias Elementary School, Matthew Friedman from Brown Junior High School, and Holly Miller from Beckley Elementary School. To nominate teachers, either the principal or assistant principal had to write a letter that explained why the teacher they were nominating made an impact on their students. Desi Dean, a Coronado graduate, claimed that when she saw the letter nominating Mr. Johnson, she remembered how much she loved him and what a positive impact he had on her life.
"Teachers do not get enough recognition for all of the hard work they do," Ms. Harper, assistant principal, said. "I think it is important that they hear 'thank you' as much as possible."
Another way Cowabunga Bay supports education is by granting all students with three or more As free entrance on Thursday, May 24 and Friday, May 25. Teachers will also receive free admission. Students just need to print out a copy of their most recent report cards  to show as for proof at the ticket booth.
"The free day at Cowabunga was super fun last year because not only was it free, but I got to go with all of my lovely friends, and I also just love water parks," Sedona Whalen, junior, said.